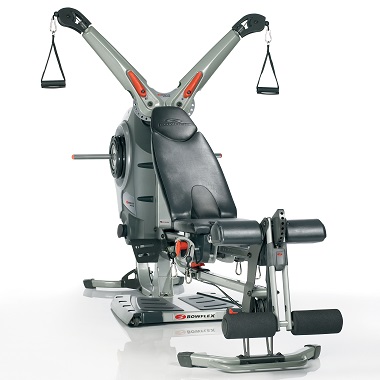 Bowflex Home Gym-Review
When it started out, Bowflex positioned itself as a competitor to Soloflex; as opposed to Soloflex, which used rubber bands, Bowflex employed a system of rods. The product has undergone several modifications, since its introduction two decades ago.
About the Product
There has always been a perception among most people that you cannot get a good workout at home and you need to go to a gym to accomplish that objective. But with the advent of technology, superior workout systems are being devised, for use at home. Bowflex have been around for some time but that hasn't stopped them from experimenting with their products and trying to improve on them all the time.
How it Works
Bowflex claims that with 20 minutes' of workout, thrice weekly, you will be able to build what is called a "Bowflex Body". This claim is displayed at the official website of the company juxtaposed next to a well-built model who appears to have had about 10 decades of exercise under his belt. The company's promoters don't stop at that claim, though. They go whole hog by saying that you can accomplish the goal within six weeks. This claim appears to be a bit over the top.
How Much it Costs
This is not the most inexpensive exercise system available on the market. That said, it is the nearest equivalent of a complete gym that you can set up at home, with a range of exercises, machines and attachments. The company has a suite of products to suit every pocket, with their exercise equipment ranging from $450, at the lowest, to $800, at the high end.
How You Make it Work
Getting the Bowflex system to your house is the first step; the more important thing is to use it rather than treat it as a piece of furniture. Appreciate the fact that you won't have to drive all the way to a gym, in order to exercise. You will be saving time and effort apart from being able to workout from the privacy of your home, with all the attendant creature comforts that go with it, such as being able to listen to music of your choice.
Final Review
Nautilus, the manufacturer of Bowflex, has earned a reputation for building upscale gym equipment, with about 20 years spent in the industry. You can safely expect the same degree of perfection, in the Bowflex system, a notion that is mirrored by the many positive reviews the system has received. Revolution This is about the most sophisticated Bowflex product and is priced accordingly. Twice as expensive as the PR3000, Revolution employs a newly devised resistance system that works more smoothly than any of the manufacturer's previous systems. PR3000 This model has no bench and comes equipped with just a chair, thereby making it compact, with the ability to fit in a smaller area than its predecessor, the PR1000, which costs about half as much as the PR3000. PR1000 This under-production system is similar to the PR3000 but with a bench as opposed to the chair you find on the PR3000. Also the PR3000, unlike this model, is expandable. You can't go higher than 210 pounds on the PR1000, and it does not have the upgradability of the PR3000. Given Bowflex's policy of innovating, as evidenced by a new annual release, every year, from 2005 to 2008, and also considering that they have not released a new model in four years, the next one should be due any time now. Bowflex has earned a reputation for its high quality systems. The company has been around for a long period and has earned many positive reviews. There is every reason to believe that the company offers quality products that will work if you stay the course and put in the requisite effort, by using the wherewithal they provide for you to have a full-fledged gym in your home. If you are considering a home gym, your choices narrow down to Soloflex and Bowflex. The latter scores over Soloflex by virtue of being designed better with its resistance much smoother; this is an advanced system that has evolved over time. A one-time investment in Bowflex would mean a home gym that lasts several years; the cost savings on a gym membership alone makes it worth the while.
Well researched reviews, from the experts at Research & You.