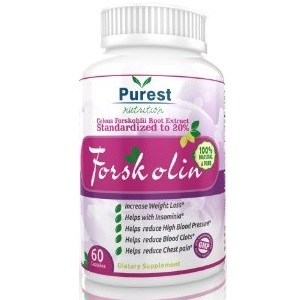 Diet Dr Forskolin Extract - Does It Work?-Review
What is Diet Dr Forskolin Extract Review?
A quick browse through your local pharmacy, specifically the weight loss aisle, would definitely reveal one, if not numerous, forskolin based supplements. It is currently among the most popular weight loss enhancers. In this review, we take a look at Diet Dr Forskolin Extract. This supplement boasts of having the optimum dosage level for forskolin which is 20% standardized. How does it stack up compared against other forskolin weight loss supplements in the market? Let's find out with our full review.
Ingredients and How it Works
Forskolin Extract (standardized to 20% forskolin) - 250 mg
Diet Dr Forskolin Extract's claim to fame is its optimized dosage levels. It contains 250 mg forskolin extract (in two capsules) which is then standardized to 20% foskolin. Other supplements that incorporate forskolin usually have around 10%. Most researchers believe that the optimum dosage for forskolin to be effective is at 20%. In this regard, Diet Dr Forskolin Extract certainly earns its merits. However, this also means you have to be more careful when taking said supplement. We also note that, despite its colorful product website, there are almost no claims made by the manufacturer regarding what the product does, other than to "jumpstart your diet".
Daily Serving
The suggested use of Diet Dr Forskolin Extract is to take a single capsule two times a day, preferably 30 minutes before meals. Weight loss supplements interact differently with various people; some will see results quickly while other might take a while for the effects to kick in.
The Cost
At the time we wrote this review, you could buy one bottle of Diet Dr Forskolin Extract for $39.99. This will net you 60 capsules which is enough for a one month's supply. This product also comes with a special discount for multi-bottle packages. You could purchase the two-month program for $59.99 ($29.99 per bottle); the three-month program for $69.99 ($23.33 per bottle); or a six-month supply for $99.99 (which drops the price to $16.66 per bottle).
Guarantee
Diet Dr Forskolin Extract comes with a 30-day money back guarantee. While that sounds like a good deal, keep in mind that it often takes more than a month for results of diet supplements to become visible. Sure, there is a possibility that effects will be felt within a month but usually that occurs only if you add in rigorous daily exercise and proper diet; and even then, of course, there's no way to promise results. Simply put, 30 days is not enough time for most to determine whether a weight loss supplement is effective or not.
Our Review Summary of Diet Dr Forskolin Extract
Diet Dr Forskolin Extract utilizes 20% standardized forskolin in each capsule. This is pointed out by experts as the optimum dosage level for this kind of dietary supplement. The discount prices for bulk purchases are also a nice addition. However, we could not find any solid customer review or testimonials online for this supplement. The 30-day money back guarantee is also quite short. There are other forskolin supplements that offer one year guarantees. You might want to check on those as well and widen your options.
Well researched reviews, from the experts at Research & You.