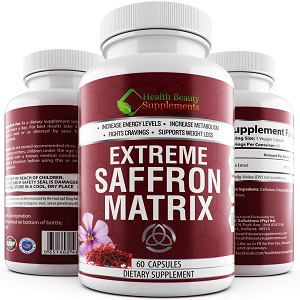 Health Beauty Supplements Extreme Saffron Matrix - Does It Work?-Review
Health Beauty Supplements Extreme Saffron Matrix is a supplement which delivers the natural extract of the crocus flower, called saffron. Saffron is a compound that has been around for centuries and has been used primarily in traditional medicine. There have been claims that it can treat many illnesses. The main benefits of taking saffron, which have been found scientifically, are weight loss and mood stability. In older times as many as 75 000 stigmas from the plant had to be extracted to produce just one pound of saffron. More recently better extraction methods have been invented to produce supplements such as this one. This review examines whether Health Beauty Supplements Extreme Saffron Matrix delivers the highest safe concentration of saffron in the best way which also suits the customers pocket.
Ingredients & How It Works
The only ingredient present in the supplement is saffron extract. The range of health benefits provided by this extract most likely stem from the fact that it increases levels of an important neurotransmitter in the body. This neurotransmitter is called serotonin and it is very directly linked to mood stability and the perception of a decreased appetite. This important double action also accounts for the fact that some individuals eat in response to negative emotions, commonly known as comfort eating.
Not only does it have these effects but saffron also contains many vitamins and minerals. It is common knowledge that these vitamins and minerals play vital roles in biochemical reactions which sustain the body's health and well-being. A deficiency of these substances could result in many physical or mental diseases.
Daily Serving
Two capsules of Health Beauty Supplements Extreme Saffron Matrix should be taken daily, each at different times of the day. For the best absorption results the supplement should be taken 20 to 30 minutes before eating a meal.
Each capsule contains 88.5 mg of saffron extract which means that together they give a daily serving of 177 mg of saffron per day. Although this may be sufficient, there are other saffron supplements which contain much higher dosages of the extract.
The Cost
One package of Health Beauty Supplements Extreme Saffron Matrix can be bought online for $17.99. Each package contains 60 capsules. Unfortunately the manufacturer does not offer a discount for buying multiple supplies at once, which can make the daily long term use of this product quite expensive.
Guarantee
According to the manufacturer they offer a guarantee. However, they do not state how long it is valid for nor what condition the package must be returned in.
Our Review Summary Of Health Beauty Supplements Extreme Saffron Matrix
This product contains pure ingredients which do have scientific backing about the benefits they provide. We find the directions for use for this product to be comprehensive and the price to be very reasonable.
There are some major drawbacks with this product however. Firstly, they don't provide a high dose of saffron extract. Secondly, they do not provide bulk purchasing options so they do not encourage long-term use of the product. Lastly, the guarantee the manufacturer offers is very vague and we could not find any evidence of independent customer reviews for this product. For these reasons we don't believe it is the most trustworthy nor best product on the market.
Well researched reviews, from the experts at Research & You.