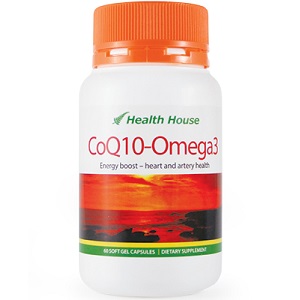 Health House COQ10-Omega3 - Does It Work?-Review
What is Health House COQ10-Omega3?
COQ10 has been and continues to be the subject of enormous scientific research thanks to its phenomenally important role in the body. As if being responsible for energy release on a mitochondrial cell level isn't enough, this important coenzyme fulfills incredible protective functions. It insulates the heart and brain and circulatory system from inflammatory damage as well as from degeneration. Unfortunately, with age comes a loss of COQ10. Certain drugs, such as statin drugs, also play a huge role in depleting COQ10, the very thing you need to keep your heart strong.
Many COQ10 brands are available today and under review this time around is COQ10-Omega3. The manufacturer says it is an aid to supporting heart, artery and brain health.
Ingredients & How It Works
Concentrated Fish Oil
Cod Liver Oil
CoQ10 (Ubidecarenone)
Omega 3 (Total)
Omega 3 (DHA)
Omega 3 (EPA)
Omega 3 (Other)
Omega 6
Vitamin A
Vitamin D
There are two forms of COQ10 - ubiquinol and ubiquinone. Of these, ubiquinol is the most accessible form for the body. This version contains the ubiquinone form. In this new formula, your dose of COQ10 has been increased from 50 mg to 75 mg, which is still far under the 250mg dose stated as being effective by leading medical experts. However, because a lot of what you want in COQ10 works well and in tandem with what you get from Omega-3, various omega sources have been included. The Vitamin A and D come from cod liver oil sources, which comes with its own host of well-known benefits. Without telling us exactly what fish oil was used (to provide yet more omega 3), the manufacturer says it has the highest level of Omega-3, is without contaminants, and minus unpleasant odors and taste. Is the COQ10 100% pure? This seems unlikely, but you should be aware that it's the only thing you need in a sound formula.
Daily Serving
Take one capsule a day with food. Get clearance with your doctor or health care agent first if you are on Warfarin or taking blood thinning medication.
This 75mg a day prescribed by the manufacturer is likely to be ineffective. Medical experts state that anything falling too far short of 250mg is bound to be ineffective.
The Cost
You'll pay $32.65 for a bottle of 60 capsules when you order online from the product website. If you follow the dosage instructions the manufacturer provides, this will last you for two months. But if you increase the dosage to what is scientifically and medically advise, it will only last for 2 weeks.
Guarantee
There is a 60-day money-back guarantee on all products. Health House says that you should return the product to have it replaced to get your money back. The way it is phrased suggests that you may not, however, return a partially used product. The manufacturer isn't very clear on this point.
Our Review Summary of Health House COQ10-Omega3
The COQ10 dose contained in this formula is far below what you need per day, but the 'compensation' the manufacturer has thrown in is the  Omega 3 content. Omega 3 too is an antioxidant and anti-inflammatory that prevents and slows down mental and organ decline, and a general lack of youthfulness. The fish oil extract has been treated to be free of contaminant residue and any 'fishy' aftertaste.
COQ10 is best delivered in 100% pure, and vegan-friendly form. That is not the case here. We are not told much about any additives or preservatives that were added and in the absence of this, we must assume that the suspensive agent is the fish oil. While not a disaster, it is not ideal. The problem is compounded by the low levels of actual COQ10 in this product because it means lower amounts of a less-than-average dose per serving is being provided. To make a more meaningful impact on your health long-term look for a 250mg daily serving product containing 100% pure COQ10 and with Bioperine for added absorption. 
Well researched reviews, from the experts at Research & You.