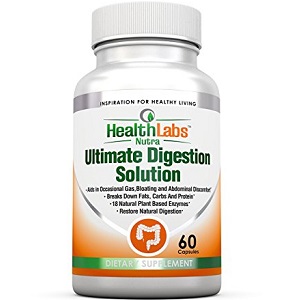 Health Labs Nutra Digestive Enzymes - Does It Work?-Review
What is Health Labs Nutra Digestive Enzymes 60 Count?
Below is a review on the dietary supplement Digestive Enzymes 60 Count. This is a supplement product which its manufacturer claims offers relief from bloating, indigestion, and gas. It is said to enhance the digestion of carbohydrates, fats, and proteins and is apparently good for use on high-protein diets.
Ingredients & How It Works
Protease 1
Protease 2
Acid protease
Amylase
Lipase
Cellulose
Glucoamylase
Invertase
Alpha galactosidase
Beta-glucanase
Pectinase
Xylanase
Phytase
Hemicellulose
Lactase
Bromelain
Papain
Peptidase
Resveratrol
Aloe vera
Senna
Other ingredients found in the capsules are: vegetable cellulose (capsule), microcrystalline cellulose, magnesium stearate and silicon dioxide. The digestive enzymes in this formula (e.g. amylase, protease and lipase) help with the breakdown of foods into smaller components: this allows for better absorption. Both the resveratrol and aloe vera have anti-inflammatory effects on the digestive system, ameliorating symptoms of IBS, such as diarrhea. Magnesium stearate and silicon dioxide do not offer any added value, except to hold the other ingredients together inside the vegetable cellulose capsule.
Daily Serving
The recommended dosage from the manufacturer is to take one (1) or two (2) capsules five minutes before a meal. However, capsules may be taken up to one hour after a meal, although the effectiveness will be weaker. Do not exceed six (6) capsules per day. Anyone on prescription medication, nursing mothers, or pregnant women, should consult a doctor before taking this dietary supplement.
The Cost
A single bottle containing 60 capsules costs $29.97. If you buy two bottles, one is free, at the purchase price of $79.97. Three (3) bottles are free with a purchase of 3 at $119.97. Free shipping comes on all purchasing options anywhere within the United States.
Guarantee
There is a 90-day money-back guarantee offered by the manufacturer. A buyer has 90 days in which to return the items using the return merchandise authorization number obtainable from the manufacturer of this dietary supplement. However, the items should be returned unopened, and in a good condition, to receive a refund.
Our Review Summary Of Digestive Enzymes 60 Count
This all-natural supplement has various purchase options offering discounts. This health product has the potential to allay symptoms of Irritable Bowel Syndrome (or simply called by the acronym IBS). However, there are some problems with this health product geared at IBS sufferers. Firstly, even though there is a refund guarantee from the manufacturer, the policy implies that a buyer may not test the product before opting to return the product. Reviews are useful in gauging whether a product is effective. However, our research uncovered that, of the 175 reviews on Amazon, only 49.8% were reliable, with the majority (50.2%) being misleading and of low quality. More so, 610 reviews have been deleted by Amazon from its website. So many other products on the market currently offer better value in terms of the quality of the product. Our findings suggest that potential buyers should think carefully before purchasing this dietary supplement.
Well researched reviews, from the experts at Research & You.