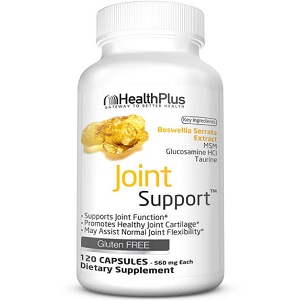 Health Plus Joint Support - Does It Work?-Review
What is Health Plus Joint Support?
Today we review Joint Support manufactured by Health Plus. Sore, swollen and inflamed joints can really have a negative impact on your quality of life. Joint pain is usually caused by arthritis, but can also be caused by a joint injury. Arthritis usually wears joints down over time and can cause ongoing joint pain if it is not handled properly or in the correct way. Joint support works to support normal joint function by incorporating a blend of antioxidants, minerals and amino acids into its unique formula. Together this blend helps to aid joint pain. If this is a problem that you struggle with regularly and you want to find out more about this product, read the rest of the review below.
Ingredients & How It Works
Vitamin C
Vitamin E
Calcium
Magnesium
Zinc
Manganese
Taurine
Glucosamine Hydrochloride
Methylsulfonylmethane
Boswellia Serrata
Chicken Collagen
Turmeric Root Extract
L-Cysteine Hydrochloride
L-Lysine Hydrochloride
L-Glutamine
Astaxanthin
Gelatin
Cellulose
Magnesium Stearate.
The vitamins and minerals in this product contain antioxidants and anti-inflammatory properties that can help soothe joint pain and discomfort thereby indirectly helping to restore function. The other ingredients support general joint health and can also aid with the mobility of the joints. This product does not state whether it is suitable for vegans and vegetarians.
Daily Serving
It is suggested that you take 4 capsules three times a day. It is not stipulated if you should take this product with meals or on an empty stomach for best results.  This product is not recommended for pregnant or nursing women.
The Cost
You can buy this product directly from the manufacturer's website for $20.49 per bottle. Each bottle contains 120 capsules so it will last you month if you take this product as prescribed.
Guarantee
This product does come with a 100% money-back guarantee if you are dissatisfied with your purchase for any reason. However, it's not mentioned on the manufacturer's website how long you will have after buying the product to return it again. They also do not say in which condition the product has to be in to be eligible for a return.
Our Review Summary Of Joint Support
This product I definitely more affordable than some of the competing brands currently on the market, especially if you look at the amount of capsules you get per bottle. This product also makes use of a wide range of ingredients which aids pain and discomfort, making it a top choice if you also want to support joint health. However, we are a bit alarmed at the fact that this product's guarantee policy is not up to scratch at all. The policy does not provide enough information to set the customer at ease if they were to buy this product, making it more of a hassle to actually buy. Vegans and vegetarians may also want to read up a bit more on the ingredients used in this product, since they do not stipulate if it is vegan-friendly or cruelty-free.
Well researched reviews, from the experts at Research & You.