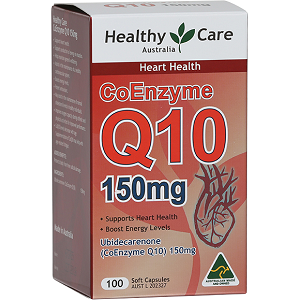 Healthy Care CoEnzyme Q10 - Does It Work?-Review
What Is Healthy Care CoEnzyme Q10?
If you're tempted to think that as a CoEnzyme COQ10 is not that important, you are sorely mistaken. This compound is found in every cell and is especially concentrated in the liver and heart. Without it, cells could not only not metabolize energy, but they'd age and die very quickly. COQ10 is responsible for helping to stave off heart attacks, strokes and other degenerative diseases and scientists are beginning to understand how it is helping the fight against diabetes as well. As humans, we lose COQ10 after the age of 45 so supplementing it is imperative. Statin drugs also deplete COQ10 levels.
There are a myriad COQ10 brands you can choose from, and it can be difficult to know if you're making the best possible purchase for your health and pocket. So, let's review CoEnzyme Q10 by Healthy Care to see what, if any, the differentiators are and to unpack as much as possible about this supplement. The manufacturer markets it as being able to maintain healthy heart tissue, help your cardiovascular system and also as being a potent free radical scavenger making it an anti-aging fighter. It also aids muscle function and boosts immunity.
Ingredients & How It Works
Coenzyme Q10 (Ubidecarenone) 
There are many manufacturers that only supply a dose of 100mg per capsule. Compared to what many manufacturers are seemingly haphazardly putting together, this dose is 'above average'. But - and this is an important but - the leading medical criteria is that a daily dose should contain 250mg COQ10. As this is 100 mg or almost half of what you require daily, it may prove to be dangerously ineffective. As a result, we don't agree with the manufacturer that you should see an improvement in your energy levels, heart strength, and cognitive function within three weeks to a month on a one-capsule-a-day regimen. The leading medical science voices and research indicate otherwise. 
It is important that the COQ10 be 100% pure and that the delivery is in a vegan-based formula. We don't know enough about the intricacies of the formula as these have not been disclosed, but it is likely, for example, that if a 100% pure source had been used, Healthy Care would have explicitly stated this.
Ubiquinone and Ubidecarenone are the same forms of CoQ10 by different names. Ubiquinone is not the most absorbable form for the body - that would be Ubiquinol. So, you'll get less benefit from this form of CoQ10. How much of it is actually making its way usefully into your body?  Considering that Bioperine is needed to aid absorption, it is safe to assume bioavailability has been compromised.
Daily Serving
Take 1 capsule daily with food, or as directed by your healthcare professional. If you're using Warfarin or a similar medication, do not proceed to take this without obtaining clearance from your doctor.
The manufacturer's dosage is too low as you need 250 mg per day in order to see effective results in a safe, controlled manner.
The Cost
Should you want to purchase this product, you are directed to another site online. You'll pay $19.79 for a single purchase. There do not appear to be discounted bottles for multiple purchases. However, shipping is free.
Guarantee
We found no guarantee or returns policy in researching this Australian-manufactured brand of COQ10. This means that you will likely only be covered if the third-party online retailer you buy it from has a returns policy. Then, the extent of the third policy would depend on their partnership with Healthy Care. In most cases like this, you would likely only be eligible for a return if the incorrect product was shipped to you.
Our Review Summary Of Healthy Care CoEnzyme Q10 mg
If cost were to be absolutely your only consideration, the price point would be attractive as it is coming in at about 33% lower on average than other brand COQ10 versions. However, you'd have to double your dosage to see real and safe health improvements. This impacts how quickly you will get through a bottle and therefore also the cost. It means that the product is not as cost-effective as it seems at face value.
There is no returns policy meaning you cannot return it should you not feel or be able to otherwise measure improvements. The other issue is bioavailability. No Bioperine is listed as an ingredient, so uptake into the body is compromised and the extra nutrients you would have received from Bioperine is missing. We would also have liked to know what additives or binders were used as soy lecithin is quite common, which would then come with a soy allergen. Unfortunately, the manufacturer has not disclosed much information. In the balance of scales at the end of the day, it is fair to say you could get better value for your health long-term based on the lack of bioavailability in these capsules, along with the low dose and a possibly not 100% pure form of COQ10 being used. We also could not find GMP or other equivalent best practice manufacturing certification.
Well researched reviews, from the experts at Research & You.