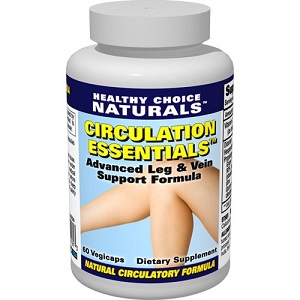 Healthy Choice Naturals Circulation Essentials - Does It Work?-Review
What is Healthy Choice Naturals' Circulation Essentials?
This is a review of Circulation Essentials. This product offers relief from tired and swollen legs, treating the pain associated with varicose veins, and offering support for veins, preventing varicose veins.
Ingredients & How It Works
A serving of 2 capsules contains:
Vitamin C (30 mg) – This vitamin helps with the structural component of blood vessels, ligaments, bones, as well as tendons.
Diosmin (600 mg) - This potent antioxidant is used for blood circulation and treating of varicose veins and other vein issues.
Hesperidin (100 mg) – These are flavonoids found in citrus rind. They work best when combined with vitamin C and other bioflavonoids.
The proprietary blend (130 mg):
Grape seed extract – Sourced from whole grape seeds, these are rich in vitamin E, flavonoids, linoleic acid, and phenolic oligomeric proanthocyanidin complexes.
Pine bark – This substance comes from the evergreens native to the Mediterranean and contains high levels of special bioflavonoids called oligomeric proanthocyanidin complexes.
Rutin – This citrus flavonoid is found in plants such as buckwheat, the leaves and petioles of Rheum species, and asparagus.
Quercetin – This bioflavonoid is known to encourage healthy circulation.
Silicon – This substance is an important building block for collagen and elastin.
Another ingredient: Microcrystalline cellulose.
This formula contains many elements unsuitable for use by allergy sufferers. These range from dairy, soy, milk, wheat, eggs, nuts, fish to shellfish. The supplement is manufactured in a factory in which cross-contamination could occur.
Daily Serving
The manufacturer recommends that 2 capsules be taken each day with a meal, or as prescribed by a doctor. Dosage must not be exceeded. Nursing mothers or pregnant women, anyone on prescription medication or having a medical condition, or those below the age of 18, should first consult a doctor before starting on this treatment.
The Cost
Circulation Essentials is available online from the manufacturer's website. A bottle (60 capsules) costs $23.00. This is a discounted price. The manufacturer offers five different purchase options on 1, 2, 3, 6, and 12 bottles. As the quantity increases, the unit price drops. For instance, one bottle costs $23.00, but 12 bottles cost $15.00 each.
Guarantee
This supplement is backed by the manufacturer's 90-day, no-questions-asked guarantee of satisfaction. This allows a buyer to return either the empty bottle or an unused portion within 90 days of purchase, for a full refund.
Our Review Summary of Circulation Essentials
Circulation Essentials is a varicose vein and vein-support supplement backed by a free trial option. There is a 100% money-back policy attached to this supplement if a buyer is dissatisfied with it. Furthermore, there are several discounted purchase options available on which buyers can save money. This product may, however, trigger allergies. Study the warnings before buying and possibly incurring an allergic reaction. This is an internal treatment only. There is no external treatment available to relieve itching and to help reduce the appearance of spider veins and varicose veins.
Well researched reviews, from the experts at Research & You.