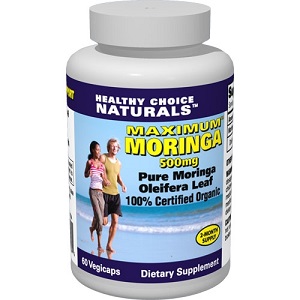 Healthy Choice Naturals Maximum Moringa - Does It Work?-Review
What is Healthy Choice Naturals Maximum Moringa?
In modern times the moringa plant is commonly used to assist people with their weight loss efforts. But this plant was and is used in traditional medicine to help boost metabolism, immune system, and energy levels - amongst other health conditions and issues. Today this review will take a look at Healthy Choice Naturals Maximum Moringa 500mg, a dietary supplement that claims to be an all-in-one healthcare product.
Ingredients & How It Works
The manufacturer of this moringa product claims that this supplement contains 100% pure  500mg of Moringa Leaf, that is said to contain 90 nutrients and 46 antioxidants. Vitamin C is supposedly one of the most active compounds in this plant, which assists with everything from metabolism to infection. This leaf is also said to include vitamin E and A, calcium as well as potassium. In addition, moringa is believed to contain amino acids such as Kaempferol, Beta-Sitosterol, and Zeatin which could contribute to the antioxidant qualities this plant claims to have.
However, there is very little information available on what this product actually contains (apart from the manufacturer's information) which is a concern. Especially when considering that it is believed that no more than 6 mg moringa should be taken daily.
Daily Serving
We were unable to find any information on how this product should be taken or consumed on the manufacturer's website. This was very troubling, considering that any dietary supplement could be harmful when taken in incorrect doses.
The Cost
This product is available directly from the manufacturer's website in a variety of special offers and different quantities. The normal price per bottle of 60 capsules is $34.95 each. However, if you buy one bottle you would pay $24.00 (saving $10.95), if you buy two it would cost $37, if you bought three it would cost $51 and if you buy twelve bottles you would pay $180.
Guarantee
We were happy to find mention of a customer satisfaction guarantee on the manufacturer's website. According to this information - you can try the product and send it back within 90 days for a money back guarantee. Unfortunately, the website did not allow us to visit the returns policy page, so we were unable to determine the exact terms and conditions of this offer. We also found no indication of past customer feedback or review.
Our Review Summary Of Healthy Choice Naturals Maximum Moringa
As we finish off our review for Healthy Choice Naturals Maximum Moringa 500mg, we were happy to find quite a lengthy termed returns policy and liked that the manufacturer claimed that this product was 100% pure in composition. Unfortunately, the lack of information available on how this product would best be used and the specifics about what each capsule contained did leave something to be desired. We also felt that there needed to be more clarity surrounding the returns policy. For these reasons, we believe that this may not be the best product available on the market, in this category, to date.
Well researched reviews, from the experts at Research & You.