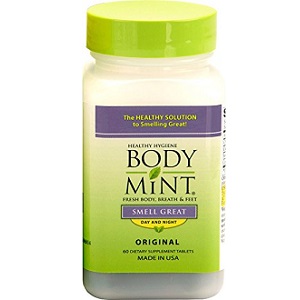 Healthy Hygiene Body Mint - Does It Work?-Review
What is Healthy Hygiene Body Mint?
This is a review of Healthy Hygiene Body Mint, a dietary supplement made from chlorophyll to control body odors including bad breath and foot odors. Functioning as an internal deodorant freshening unwanted odors from within the body before they are released, Body Mint targets multiple sources of odors.  It contains no aluminum, parabens, or harsh chemicals and is packed with antioxidants to give the optimal effect in combatting the issue.
Ingredients & How It Works
Primary Ingredients
Chlorophyllin (SCC) - 100 mg

Sodium - 6 mg

Copper - 4 mg
Secondary Ingredients
Dicalcium Phosphate

Cellulose and Plant-based Stearic Acid
Chlorophyllin is a derivative of chlorophyll. It is found in green plants and naturally absorbs odor-causing compounds before they are excreted from the body. Chlorophyllin also assists in removing toxins from the bloodstream and digestive tract.
Other products on the market utilize additional ingredients without relying on chlorophyllin alone. The addition of extracts including green tea and magnolia bark, in addition to peppermint oil and fennel, have been tested and proven to significantly help in controlling all bodily odors. Specifically, the addition of probiotics in other products on the market for regulating and balancing pH levels and healthy bacteria in the stomach for long-term intestinal health and bad breath reduction has shown to be useful.
Daily Serving
The product label states that adults should take two tablets a day, once in the morning and once in the evening.  It can be taken with or without food. Each tablet has 100 mg of chlorophyllin. Individuals with medical conditions or on medication, or nursing, pregnant, or giving this product to a child should all consult their healthcare professional before using this product.
Additionally, side effects may include cramps and diarrhea so the dosage should be reduced or stopped if this occurs.  Stools may be greenish in color.
The Cost
Body Mint can be purchased through the manufacturer's website. One 60-capsule bottle costs $16.95 and there is an Auto Delivery sign up where it can be purchased for $15.95 per bottle.  Third party websites also sell it for as little as $14.81 per bottle.
Guarantee
Healthy Hygiene offers a 100% satisfaction guarantee on their products for unsatisfied customers who make their purchase through the website and request their refunds within 30 days of receiving the order.  Customers are responsible for paying for the cost of shipping the product back to the manufacturer in all instances unless the shipment was not sent correctly, the product was defective, or the date on the product was expired.
Our Review Summary Of Healthy Hygiene Body Mint
Body Mint uses fresh ingredients in manufacturing a supplement to control odors before they are excreted.  It has never been tested on animals and comes in an eco-friendly bottle. However, user reviews are mixed, with many saying that it takes a lot of time to get the desired effects if the product ever ends up working at all.  We surmise that this product relies too heavily on chlorophyllin alone and it is simply not enough to do the trick.  Unfortunately, Body Mint only offers a 30-day satisfaction guarantee, which cannot be considered at all competitive with companies offering satisfaction guarantees of up to a year.  Longer guarantees cannot help but give consumers confidence in the products that the manufacturer so proudly stands behind.  It is advisable to examine other options on the market as you do your consumer shopping.
Well researched reviews, from the experts at Research & You.