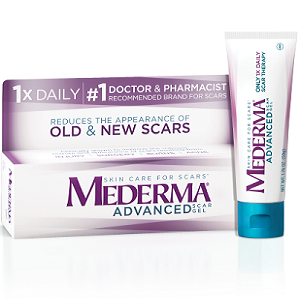 Mederma Advanced Scar Gel - Does It Work?-Review
What is Mederma Advanced Scar Gel?
This is a review of Mederma Advanced Scar Gel. Mederma Advanced Scar Gel is a product intended to work on new and old scars, including scars formed by cuts, injuries, surgery, burns and acne. It has properties that help your scars become less obvious and look smoother and softer. The manufacturer claims that the effect of the gel on your scar will start becoming visible within four to eight weeks depending on the individual.
Ingredients & How It Works
Mederma Advanced Scar Gel is made from a skin protectant called Allantoin. Allantoin comes from an extract of a comfrey root plant. It contains a soothing, non-irritating property that is able to stimulate growth of a healthy tissue. This then protect and help reduce chapped or damaged skin.
The inactive ingredients are purified water, PEG 200, alcohol, Xanthan Gum, Fragrance, Sorbic Acid, Sodium Hyaluronate, Panthenol, Allium Cepa Bulb Extract, Methylparaben and Lecithin.
Daily Serving
Apply a thin coat of this product and smoothly rub it into the scar until it is fully absorbed. This can only be done once a day. It is important for you to cleanse the area with mild soap and water before you apply the gel. It is recommended that you use it daily for eight weeks on new scars and three to six months on old existing scars.
You are advised to stop using this Mederma Scar Gel if your condition does not improve, and ask for advice from your healthcare provider.
You are also advised not to use Mederma Advance Scar Gel on open wounds, such as animal bites and severe burns, and on a wound with stitches.
The Cost
The price of the product varies between $14.78 and $57.27 from online retailers, for a 20g tube. The 50g tube can also be purchased online for the cheapest price of $24.95 and $39.99. The price difference between the retailers is shocking. We advise that you look for the best deal if you end up buying Mederma Advanced Scar Gel. We did not find any discounted bulk purchasing packages.
Guarantee
The manufacturer offers an eight weeks guarantee for new scars and three to six months for old scars. If you do not see results within the stated period, they advise that you print and complete a form that is available on their website, and they will refund you fully, excluding any other fees.
Our Review Summary Of Mederma Advanced Scar Gel
Mederma Advanced Scar Gel promises to reduce the appearance of scars within four to eight weeks of use. It has a special natural ingredient that is able to soothe and stimulate tissue growth, giving you the results that you need.
We are concerned about the huge difference between prices for this product because it could mean that some retailers are trying to get rid of it, hence the cheap price, or some are trying to encourage customers to trust it, hence it is expensive from them.
Through our research we read some reviews from unhappy customers. They indicated that they developed rash from using the product, and some did not see results at all.
The manufacturer's guarantee of eight weeks for new scars is not enough. It is always better to go for a product that offers more time for guarantee, one does not have side effects and one that has a justifiable price.
Well researched reviews, from the experts at Research & You.