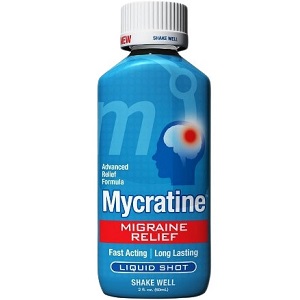 Mycratine Migraine Relief - Does It Work?-Review
What is Mycratine Migraine Relief?
This is a review of Mycratine Migraine Relief. The product is designed to activate neurological receptors in the brain and prevent painful symptoms associated with migraines. The manufacturer claims that this complex homeopathic formula provides fast-acting results. We have assessed the reliability of this claim so that you can make a wise consumer purchase.
Ingredients & How It Works
Caffeine
L-Tyrosine
L-Phenylalanine
Caffeine works to constrict blood vessels and prevent the fast flow of blood to the brain. In doing so, it is responsible for alleviating headaches. L-Tyrosine is argued to support deficiencies which can lead to migraines. That said, this ingredient can induce headaches if taken in high dosages. This is a major concern as it contradicts the intention of this product. L-Phenylalanine is an amino acid that is used to combat depression and pain. But again, high doses of this ingredient has been known to trigger headaches. This formula is, therefore, counterproductive to its goals. The formula lacks many essential ingredients that are used in competitor products for the pain-relieving benefits. Another concerning factor is that this product was not produced in a cGMP certified facility. These certifications are used to showcase that quality is of the utmost importance during the manufacturing process. The lack of one brings product efficacy into question. While this formula may be beneficial for quick pain relief, it cannot be relied on as a total care solution to migraines and the prevention of future attacks.
Daily Serving
Users should drink one (1) bottle at the first sign of a migraine attack. It is claimed that effects will be felt within fifteen (15) minutes of use. In the case of severe attacks, users are advised to take an additional bottle 15 minutes after the first. Customers are advised to not consume more than four (4) bottles per day. It is concerning to note that the manufacturer does not provide the concentrations of ingredients used. This means that we cannot determine the dosage strength of this product. We, therefore, cannot consider it a reliable solution to migraines.
The Cost
The product can be purchased online from the manufacturer or third-party sites. A single bottle costs $5.99 from the manufacturer's store. This seems affordable, however, bear in mind that a single bottle is a single serving. Regular use of this product could become extremely costly and there are no bulk-buy deals to encourage long-term use. Potential customers may find many more affordable deals for alternative products on the market. These competitor formulas will likely contain additional beneficial ingredients at a more competitive price.
Guarantee
Despite further research, we were unable to locate a manufacturer guarantee. This means that customers who are unhappy with results have no way of applying for a refund. This is a major concern as it suggests a lack of confidence in the product's ability to deliver desired results. What raises further concerns is the several negative customer reviews. Many purchasers state that it had no positive effect. This brings product efficacy into question.
Our Review Summary Of Mycratine Migraine Relief
Mycratine Migraine Relief contains a few ingredients that may prevent painful symptoms associated with migraines. The manufacturer provides clear dosage instructions for best results. That said, there are several disappointing facts about this product. Product efficacy is not supported by a guarantee or positive customer reviews. The formula omits many beneficial ingredients found in competitor products. And, the price is fairly steep. These are a few reasons why we do not recommend this migraine support supplement.
Well researched reviews, from the experts at Research & You.