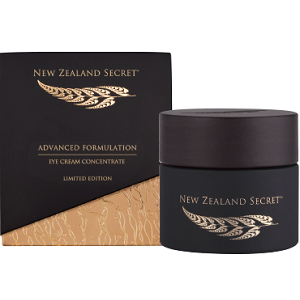 New Zealand Secret Eye Cream Concentrate - Does It Work?-Review
What is New Zealand Secret Eye Cream Concentrate?
The following review is for a product called Eye Cream Concentrate, which is manufactured by New Zealand Secret. This product contains a variety of ingredients that soothe inflammation and restore the moisture back into the skin. Additionally, the manufacturer of this product claims that continued use of their eye cream will help to reduce the appearance of fine lines and wrinkles. Finally, this product will significantly decrease the appearance of dark circles under the eyes.
Ingredients & How It Works
Undarianz
Cupuacu Butter
ConeFlower Extract
Advanced formulation of Almond, Borage, Linseed, Olive Acids, Glycerides
We believe that this is a good combination of ingredients. Undarianz, which is derived from a species of kelp, has special anti-aging benefits. Additionally, cupuacu butter is a unique antioxidant that repairs dry and damaged skin. However, our research indicates that there are numerous issues with this formulation. We were concerned that this product only contains four active ingredients. We are also not sure if this product has an adequate concentration of the active ingredients. Finally, we believe that products like this should contain ingredients like Passion Flower and Alpen Rose to protect the skin and reduce the appearance of inflammation and wrinkles.
Instructions
This product is available in a cream formulation that seems rather easy to use. The manufacturer of this product recommends that you remove a small amount of the cream from the container with your ring finger. You should then apply the cream to the skin underneath your eyes starting from the outside moving towards the inner corners of the eyes.
The Cost
You can buy this product directly from the manufacturer on their online store. One bottle of this product is available for $385.00. Unfortunately, we were unable to find any information regarding discounts or special offers that are available for the manufacturer of this product.
Guarantee
Unfortunately, it appears that there are no guarantees available for the customer who purchases this product. When a product has a guarantee, it indicates that the company respects their clients and believes in the efficacy of their product. Sadly, this does not seem to be the case here.
Our Review Summary of New Zealand Secret Eye Cream Concentrate
After we completed our review of this product, we concluded that this could be a good solution for individuals who want to improve the appearance of the skin underneath their eyes. The manufacturer of this product provides clear, easy to follow instructions for the use of this product. Additionally, we were able to find several positive reviews for this product. However, we were slightly concerned about a few points we uncovered during our research. The manufacturer of this product does not provide any information regarding the concentration of active ingredients included in the formula. Additionally, we were disappointed to discover that this product is rather expensive. Finally, we were alarmed to discover that there are no guarantees available for this product.
Well researched reviews, from the experts at Research & You.