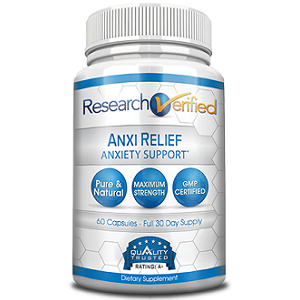 Research Verified AnxiRelief - Does it Work?-Review
What is Research Verified AnxiRelief?
Anxiety is extremely difficult to live with. It can affect every part of one's daily life, sometimes making it very difficult to function and get things done. People search high and low to find supplements that can relieve their anxiety so that they can live a productive and healthy life. However, a lot of supplements don't actually work or are not safe to use, often with nasty side effects. The following review is for a product called Research Verified AnxiRelief. AnxiRelief was created for people suffering from anxiety. The ultimate goal of AnxiRelief is to restore calm, peace, and tranquillity back into the lives of those struggling with anxiety.
Ingredients & How it Works
Each ingredient was carefully chosen by researchers based off of thorough research to ensure that you are filling your body with the healthiest and most natural ingredients. For AnxiRelief, there is a day-time and a night-time formula.
Day-time Formula
L-Theanine
Chamomile flower
Bacopa Monniera
Magnolia
Oats
Magnesium
Niacinamide
Night-time Formula
Valerian Root
Passion flower
Chamomile flower
Magnolia
Hops
Jujube extract
Further notes on some of the ingredients:
Passion flower and chamomile flower are contained in both the day-time and night-time formulas. Passionflower is known for its sedative qualities and is commonly used as an herb to help relieve symptoms of insomnia and anxiety. The chamomile flower is used as a calming agent and sleeping aid. It relaxes the muscles and can also help relieve digestive issues associated with anxiety.
Daily Serving
Day-time serving:
It is suggested that you take two capsules daily. Ideally, you should take one before breakfast, and one in the afternoon with an 8 oz glass of water.
Night-time serving:
It is suggested that you take one capsule before bed
The Cost
There are three different packages for purchase, all easily accessible online. The following packages are offered: AnxiRelief Day, AnxiRelief NIght, and AnxiRelief Day+Night. The AnxiRelief Day+Night formula comes in three different options. Two bottles, for $40 each, $80 in total. We then have the four bottles option, costing $29 each, and $116 in total. Lastly, we have the 6 bottles option, costing $24 each, and $144 in total.
Guarantee
Research Verified is so confident that you will be pleased with their product, that there is a 365, risk-free, money back guarantee! Research Verified seems to be one of the top manufacturers in the industry, making sure their customers are happy and getting the very best. To see our Research Verified review, click here.
Our Review Summary of Research Verified AnxiRelief
Why is Research Verified AnxiRelief the best product on the market? Research Verified is a well-respected company. Their products are always backed up by clinical data and scientific research, you can rest assured that you are receiving the best care possible. AnxiRelief is manufactured in the USA in an FDA registered lab, that is also cGMP certified. The dual-action formula ensures that you are relieved of anxiety during the day and night. The formula contains the purest ingredients to make sure that you are receiving the best and healthiest supplements for your body. In an anxiety-ridden society, it is helpful to have a relief. We are confident that AnxiRelief will help you live a better and calmer life, free from anxiety.
Well researched reviews, from the experts at Research & You.