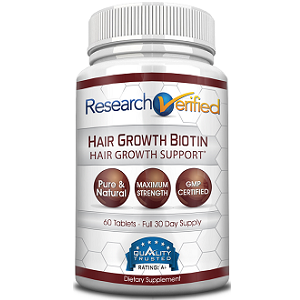 Research Verified Biotin - Does It Work?-Review
What is Research Verified Biotin?
Today we review Biotin manufactured by Research Verified. Biotin claims to strengthen your hair, nails and skin. It may also help your hair and nails to grow faster and stronger if taken regularly. It has also shown to reduce blood sugar in diabetics and it is an essential B vitamin for healthy metabolic function. If you want to have a younger and more vibrant appearance then this supplement may be able to help you. Read the rest of this review below to find out everything there is to know about this supplement.
Ingredients & How It Works
This product contains 10 000 mcg of Biotin. Secondary ingredients include Dicalcium Phosphate, Microcrystalline Cellulose, Stearic Acid, Magnesium Stearate, Silicon Dioxide and Croscarmellose Sodium. This supplement does not have any preservatives, artificial coloring or hormones. Biotin is known as vitamin H or vitamin B7 and helps you to turn food into energy. It also plays a role in stimulating hair growth, repair and nourish the skin from the inside out and thicken nails by up to 25 percent. This ingredient is plays a vital role in protecting your brain and helps to improve overall neurotransmitter activity.
Daily Serving
It is recommended that you take 2 capsules per day at least 30 minutes before a meal with a glass of water. For long-term use it is best to take one capsule per day. Taking just one capsule per day will ensure you an effective dose of biotin. If you are pregnant, nursing or taking prescription medication it is advisable to first consult your doctor before taking this supplement.
The Cost
You can purchase this product directly from the manufacturer's website. One bottle will cost you $48, three bottles will cost you $33 each and six bottles will cost you $24 each. Seeing as there is a lot of discount given when ordering this product in bulk, it is actually very competitive price wise when you compare it to similar products currently on the market.
Guarantee
This product comes with a 365-day money back guarantee. This guarantee offers you ample time to test out your product and it accepts opened and closed bottles upon returned orders. If you consider that other products usually only come with a 30-day guarantee, then this is by far the best guarantee policy when it comes to buying supplements. It also shows that the manufacturers have faith in the product's claims.
Our Review Summary of Biotin
We like that this product offers the optimum dose of 10000 mcg of biotin per capsule. This dosage is perfect for supporting healthy hair, nails and skin without causing any negative side effects. We also like that this product is so affordable if you buy it in bulk, and that you can exactly how many bottles you would like to buy per order. We also feel like this product has one of the best guarantee policies seeing as you get an entire year to decide whether you like it or not.
Well researched reviews, from the experts at Research & You.