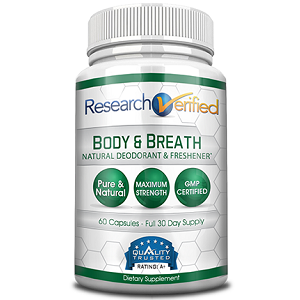 Research Verified Body & Breath - Does It Work-Review
What Is Research Verified Body & Breath?
Today we review Research Verified Body & Breath. Bad breath and body odor can be distressing and socially awkward. Many solutions focus on covering up rather than eliminating the problem. Research Verified Body & Breath goes beyond to correct imbalances and deficiencies that can cause breath and body odor.
Ingredients & How It Works
Primary Ingredients
Lactobacillus Acidophilus - A probiotic that restores digestive balance.
Chlorophyll Copper Complex - Antibacterial odor-absorbing compound.
Green Tea Extract - Anti-inflammatory, antibacterial.
Magnolia Bark Extract - Antianxiety agent.
Peppermint Oil - Antimicrobial, digestive aid.
Fennel Seed - Digestive aid.
Secondary Ingredients
Gelatin
Magnesium Stearate
Calcium Carbonate
These all natural ingredients include no added fillers, colorants, or flavorings. Each item works to correct the underlying causes of breath and body odor. L. Acidophilus, fennel, and peppermint address poor digestion due to gut imbalance, which may lead to bad breath. Bacteria and microbes are a major cause of unpleasant smells. The Chlorophyll copper complex, green tea extract and peppermint oil work to correct microbial overgrowth that can contribute to odor. Finally, the magnolia bark helps reduce anxiety, a major underlying cause of odor problems.
This supplement is made in the United States. The factory is registered with the FDA and is cGMP certified, so we know that this is a safe and effective product.
Daily Serving
Research Verified recommends taking two to three capsules daily, as needed.
The Cost
Controlling breath and body odor can require daily maintenance. Research Verified makes it easy with bulk buying options, eliminating the need for frequent reordering. Better yet, they offer a sizeable discount to those who purchase in bulk. Consumers may choose among one bottle for $48.00, three for $98.00 or six for $142.00. This last is by far the best deal, providing a saving of $24.00 per bottle.
The website is secure and Research Verified accepts major credit cards as well as payment through PayPal and Amazon. FedEx and the United States Post Office provide fast and safe shipping.
Guarantee
A good guarantee indicates a good supplement. The Research Verified guarantee is the best we have seen. Customers have a full year to decide whether or not they are pleased with the product. If not, it may be returned for up to a year after the date of purchase. This includes unopened and opened bottles. Opened bottles cannot be resold and are valueless to the manufacturer. Research Verified's acceptance of them shows a commitment to customer service rare in the industry.
Our Review Summary of Research Verified Body & Breath
Research Verified Body & Breath is a great product. The ingredient list is all natural with no added fillers or colorants. It goes beyond the basic masking of odor to eliminate the problem at its source by correcting imbalances and improving overall health. The factory producing it is FDA registered and cGMP certified. We like the multiple buying options that include fantastic discounts for bulk purchases and multiple payment options. Finally is the nearly unheard of 365-day money back guarantee. Such an offer eliminates all risk for the consumer. With all this in mind, we are happy to recommend Research Verified Body & Breath. You can see a full Research Verified review here to see why we think this is a manufacturer worth buying from. 
Well researched reviews, from the experts at Research & You.