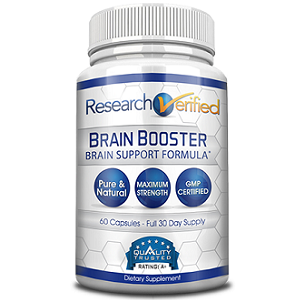 Research Verified Brain Booster - Does It Work?-Review
What is Research Verified Brain Booster?
Brain health is a vital part of overall well-being. There are supplements abound that claim to improve brain function. Today we review Research Verified Brain Booster. Read on to learn more.
Ingredients & How It Works
This product contains the following ingredients:
Vitamin B Complex (Contains B1, 2, 3, 6, 12)
L-Tyrosine
Phosphatidylserine Complex
Choline Bitartrate
L-Theanine
Acetyl L-Carnitine
DMAE
Guarana
Huperzine A
Other Ingredients:
Gelatin
Magnesium Stearate
Calcium Carbonate
This impressive list contains ingredients to improve brain function on all levels. They help with everyday functioning and work to improve and protect brain health into the future. Largely plant-based, this safe, clean formula may be taken even by those without stress or cognitive fatigue. We feel confident in the safety of this product because Research Verified manufactures its supplements in an FDA registered, cGMP certified facility that meets or exceeds US Pharmacopeia's standards for quality and purity.
Daily Serving
Research Verified recommends taking one capsule twice a day, preferably with a full glass of water before a meal. This provides an ideal amount of each ingredient. Too little may be ineffective and too much can be dangerous. Research Verified makes sure they follow the most effective dosages as been found effective in clinical studies. This full Research Verified review explains more about this manufacturer's values and manufacturing process.
The Cost
For adults, it is never too early to start protecting and enhancing brain health and function. It is helpful to have an adequate supply of a supplement to avoid the hassle of frequent reordering. Research Verified recognizes this. Brain Booster is sold through the manufacturer's website. While it is simple to buy a single bottle, they make it easy and economical to purchase in bulk. One bottle, consisting of a one-month supply, is $48. A three-month package is $98. The best deal is the six-month supply. This costs $142 which represents a saving of an amazing $277.70.
Buying from Research Verified's secure website is easy. They accept all major credit cards as well as payment through Amazon and PayPal. They ship via FedEx and the United States Post Office to ensure a safe and timely delivery.
Guarantee
The strength of a manufacturer's guarantee influences our view of the product. The better the terms, the more likely we are to believe the claims. Research Verified's guarantee is one of the best we have seen. Customers have a full year to try the product. If they are dissatisfied at any time within 365 days of purchase, they may return the remaining supply for a refund. This remarkable offer extends to opened as well as unopened bottles, something few competitors offer. These terms protect the consumer from all risk when buying this supplement.
Our Review Summary Of Research Verified Brain Booster
We found that Research Verified Brain Boosted exceeded our expectations on all points. The ingredients are carefully chosen to promote optimum brain health and are free of artificial colorants, flavorings, fillers, and common allergens. It is easy to purchase and the bulk savings are remarkable. The commendable guarantee eliminates all risk and convinces us of Research Verified's sincerity in offering the best available product. After considering all this, we recommend Research Verified Brain Booster.
Well researched reviews, from the experts at Research & You.