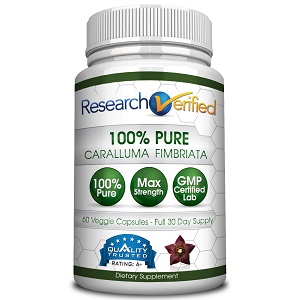 Research Verified Caralluma Fimbriata - Does it Work?-Review
What is Research Verified Caralluma Fimbriata?
Research Verified Caralluma Fimbriata is a weight loss dietary supplement that also touches upon other aspects of weight management that help push this product past your average weight loss products. First and foremost, this supplement helps in blocking fat causing enzymes to develop. It also rapidly breaks down stored fat and uses it as your body's fuel, which in turn, gives you a boost in energy.
It can also help suppress your appetite which helps you control the amount of food you eat and get a better handling of your daily calorie intake. Read our full Research Verified Caralluma Fimbriata review to learn more about this popular dietary supplement.
Ingredients & How It Works
Research Verified Caralluma Fimbriata uses a single ingredient and that is the herbal plant known as Caralluma Fimbriata (1,600 mg, whole plant extract 10:1). This plant is native to the country of India. This herb has been used for centuries, especially by travelers, due to its ability to inhibit hunger pangs.
Chewing raw herbs helps in giving you a feeling of fullness. This is why it is now developed into a dietary supplement. It not only helps stem appetite, but it can also help in boosting energy for the body as well.
Daily Serving
The adult dosage indicates that the recommended daily serving is for two capsules per day. Ideally, you should take this supplement 30 minutes before your meal. You should take one in the morning and another in the afternoon.
Research Verified Caralluma Fimbriata has been tested and proven to be completely safe for use with only mild side effects being reported by a handful of people who tried out this product. Research Verified is a top manufacturer that only uses ingredients and dosage that have been backed by clinical studies. You can read our full Research Verified review to learn more about this manufacturer and what they stand for. As with all dietary supplements, it is vital that you stay within the recommended dosage in order to prevent any sort of complications from developing.
The mild side effect mentioned is usually stomachache. This side effect will normally disappear after a week or so of continuous use. Basically, this mostly happens to first-time users who have a slightly more sensitive digestive tract.
The Cost
A single bottle of Caralluma Fimbriata contains 60 capsules and is available for $48. The official Research Verified website also offers discounted supply packages for those who plan on buying multiple bottles at once. They have a three-bottle program that drops the price to $33 per bottle and a six-bottle option that further drags down the price per bottle to $24.
Guarantee
We checked the official website of the manufacturer and discovered that this product has a 365-day money back guarantee attached to it. This is a great little safety net for first-time buyers who are still unsure if they want to try this weight loss supplement out.
You should see a drop in weight within a month or so of daily use, combined, of course, with proper diet and exercise. This guarantee is a nice addition to an already solid product.
Our Review Summary of Research Verified Caralluma Fimbriata
Research Verified Caralluma Fimbriata makes use of this unique herb perfectly. You will be able to control your appetite and boost energy levels as well.
This is also an extremely safe dietary supplement to take when compared to others on the market at present. The inclusion of a monthly supply package can help you save cash in the long run. The money-back guarantee will also help keep your mind at ease.
This review of ResearchVerified Caralluma Fimbriata should help you make an informed decision whether this weight loss supplement is the right one for you.
Well researched reviews, from the experts at Research & You.