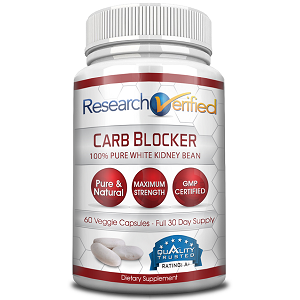 Research Verified Carb Blocker - Does It Work?-Review
What is Research Verified Carb Blocker?
There are multiple types of carb blockers available, but those based on white kidney beans, such as Research Verified's Carb Blocker, are the most common in the weight loss supplement market. Research has found that they work by reducing the amount of an enzyme in the body that works to break down complex carbs during digestion. Research Verified claims that its Carb Blocker is one you should be using because it is made by taking into account the results of clinical studies showing weight loss success with white kidney bean extract and creating its formula accordingly. It also differentiates its product by noting that it is third-party tested for quality. In our review of Research Verified's Carb Blocker, we offer up all the facts to help you decide if it fits with your weight loss plan.
Ingredients & How It Works
Each two-capsule serving contains:
As noted, white kidney beans impede the function of an enzyme, alpha-amylase, that which breaks down complex carbohydrates into simpler sugars which the body can absorb into the bloodstream. The chromium and chitosan are included to help the main active ingredient be more effective. Several studies have shown white kidney beans can help in reducing weight. Some suggest that in addition the enzyme action, they also have an appetite-suppressing property. Research Verified created this product according to this research which makes their product a top choice on the market. Read our Research Verified review here to see what else makes this manufacturer, and their products, a top choice.
Daily Serving 
Research Verified The manufacturer instructs users to take one capsule twice a day. For best results, each capsule should be taken a half hour before a meal, with a glass of water. 
The Cost 
Research Verified Carb Blocker is available for purchase directly from the manufacturer's website. The company offers three options, a single bottle at $48, a three-bottle set at $33 per bottle and a six-bottle package at $24 each. Payment options include major credit cards, Paypal and Amazon checkout. 
Guarantee
The company offers a top-notch return and refund policy with its one-year money-back guarantee. In addition to the long time frame, both opened and unopened bottles are accepted back for refund if you're not satisfied.
Our Review Summary of Research Verified Carb Blocker
In a highly competitive marketplace such as the diet-aid supplement category, there are a number of product attributes that we look for to help a given product stand out from the crowd. First and foremost of course is the ingredients and formula. In this case, Research Verified Carb Blocker looks like a good choice with its simple formula and dosage based on successful clinical studies. Second, a manufacturer expresses its confidence in the efficacy of its product with a comprehensive return and refund policy and on this score, Research Verified is at the top of the heap. Finally, we definitely prefer a manufacturer that takes the time and effort to comply with cGMP standards, meaning it cares enough about the quality and consistency of its product to invest in it. For all these reasons, our review of Research Verified Carb Blocker concludes with our recommendation that it's worth trying.
Well researched reviews, from the experts at Research & You.