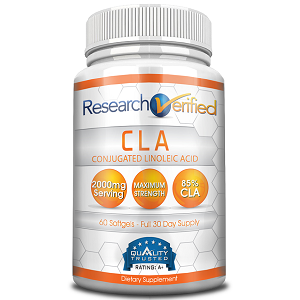 Research Verified CLA - Does It Work?-Review
What is Research Verified CLA?
The following review is an analysis of one of the most potent weight loss dietary supplements on the market called Research Verified CLA. Conjugated Linoleic Acid is known to reduce food intake, increase fat burning and triggers the metabolism of fat while inhibiting the production of it. Research Verified extracts its CLA from safflower oil in the most robust and effective manner so that you quickly reach your weight loss goals. Additionally, you can also enjoy an improved immune system and increased gut flora. Read on to see why we think that RV CLA is a top product.
Ingredients & How It Works
Research Verified manufactures its CLA supplement from safflower oil and it is standardized to contain 85% Conjugated Linoleic Acid. CLA is famous for its ability to increase the body's metabolism processes for a faster fat-burning process. It is also known to increase energy output while decreasing the consumption of calories, thereby also reducing the production of fat.
Daily Serving
Clinical studies show that you need at least 2,000 mg a day of CLA. Research Verified recommends a dosage of one 1,000 mg softgel capsule, two times a day, before meals, bringing your daily consumption of CLA up to 2,000 mg a day. It is advised to not take more than the recommended dosage. Nursing or pregnant women, people under the age of 18, and individuals on other prescriptions need to consult a physician before using this supplement.
The Cost
Research Verified maintains an easy-to-navigate website. You can order any package online directly from their website in the comfort of your home. RV offers three purchasing options for their customers. A one-month supply sells for as little as $48. Their three-month supply retails for $98. And their best package deal of a six-month supply sells for the bargain price of $142.
Guarantee
Research Verified assures their customers that every package they order will live up to their expectations. The company offers you one year to try out their products. You can return any product that does not please you and be legible for a reimbursement, minus shipping fees. Research Verified accepts the return of empty or unused bottles including the ones ordered in bulk.
Our Review Summary Of Research Verified CLA
With our review analysis of Research Verified CLA, we have established that this CLA supplement is one of the best fat-burning solutions on the market. The CLA in this product is standardized to 85% and packed in a 100% pure softgel capsule. The manufacturer bases their information on clinical studies and has met the minimum recommended dosage of 2,000 mg a day for this product so that you can achieve your weight loss goals in the healthiest way possible. Additionally, each capsule contains no added fillers, binders, or preservatives which reduce the effectiveness of the product. Research Verified has put in place a rock-solid 365-day money back guarantee to ensure their customers are satisfied with this product. This also shows the level of confidence Research Verified has in their products. Unlike many companies that hide unsubstantiated outlandish claims behind colorful websites, Research Verified manufactures their CLA based on clinical data. This manufacturer puts the customer as their top priority, ensuring you are getting a safe and effective supplement, at an affordable rate, and with no risk, as they have in place a money-back guarantee for a whole year! This is definitely a product worth trying.
Well researched reviews, from the experts at Research & You.