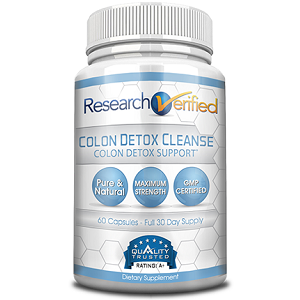 Research Verified Colon Detox Cleanse - Does It Work?-Review
What is Research Verified Colon Detox Cleanse?
Many people feel benefit from an occasional cleansing of the colon. However, sub-optimum products can make the process ineffective or even dangerous. Finding the best is vital. Here we review Research Verified Colon Detox Cleanse; a safe, natural, and gentle supplement for colon health.
Ingredients & How It Works
Primary Ingredients
Flax Seed Powder (Anti-inflammatory)
Psyllium Husk (Bulking fiber)
Oat Bran (Soluble fiber)
Papaya Leaf (Vitamin rich digestive aid)
Bentonite Clay (Natural detoxifier)
Black Walnut Leaves (Antioxidant)
Mangosteen (Antioxidant, anti-inflammatory)
Aloe Vera (Gentle laxative)
Apple Pectin (Fiber)
Glucomannan (Plant based bulking fiber)
L. Acidophilus (Probiotic)
Prune Powder (Gentle laxative)
Secondary Ingredients
Gelatin
Calcium Carbonate
Magnesium Stearate
This impressive list is all natural and without fillers, colorants or flavorings. We were pleased to note the absence of senna, which though natural, can irritate the colon and cause diarrhea. The gentle laxatives, fiber and bulking agents in this formula aid proper stool formation while helping the body eliminate toxins. The inclusion of the probiotic L. Acidophilus works to promote a balanced gut flora. Research Verified Colon Detox Cleanse is made in the United States. The factory is FDA registered and cGMP certified, giving us confidence in the safety and purity of the supplement.
Daily Serving
This gentle, natural formula may be used as an occasional cleanse or regularly to maintain bowel health. For a cleanse, take two capsules three times daily with food, with the third serving no later than the afternoon.
For gut maintenance, take two capsules daily, one in the morning and one in the afternoon.
The Cost
The colon is a vitally important and often neglected organ. Committing to proper gut maintenance can improve health and quality of life. Research Verified makes this easier by offering numerous options when purchasing Colon Detox Cleanse. It is available on their secure website in one, three, and six-bottle amounts, with significant discounts for bulk orders. One bottle is $48.00, three bottles will cost $98.00 and six will cost $142.00. This last results in a savings of $24.00 per bottle.
Research Verified accepts major credit cards as well as payment through Amazon and PayPal. They ship via FedEx and the United States Post Office.
Guarantee
The highly impressive Research Verified guarantee reflects their confidence in the quality and efficacy of Colon Cleanse. Consumers may return this product, for any reason, for a full year after purchase. This remarkable offer includes opened as well as unopened bottles, something few if any competitors allow. The consumer needs only to contact customer service, receive a return number and send back the product for a full refund, less shipping. This manufacturer seems to be one that really looks out for the best interests of their consumer. This Research Verified review tells you more.
Our Review Summary of Research Verified Colon Detox Cleanse
Research Verified Colon Detox Cleanse has many sterling qualities. The all-natural ingredient list lacks any fillers, colorants, or flavorings. They avoid the use of harmful stimulant laxatives and include probiotic support to help balance colon flora. The formula is gentle enough for daily maintenance use and includes elements whose benefits go beyond the gut. They make bulk purchasing easy and economical. Lastly, their outstanding guarantee means the customer may buy without risk. With all this in mind, we recommend Research Verified Colon Detox Cleanse.
Well researched reviews, from the experts at Research & You.