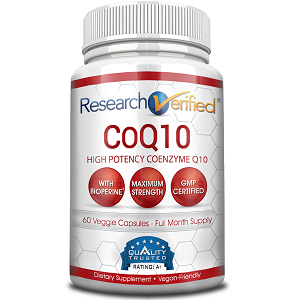 Research Verified CoQ10 - Does It Work?-Review
What is Research Verified CoQ10?
The following is our review of Research Verified CoQ10. This product will help boost your energy, improve mitochondrial health, heart health, hypertension, and statin reduction. This product contains the highest quality of ingredients in the most effective doses. It has 250 mg of coenzyme Q10 and bioperine to provide you with optimal health benefits. Continue reading for our full review.
Ingredients & How It Works
Coenzyme Q10 – 250 mg
BioPerine (piperine) – 10 mg
Other ingredients include: Vegetable cellulose and rice flour.
Coenzyme Q10 is so great because it lowers blood pressure, boosts cognitive energy, balances cholesterol, an helps reduce your risk of a heart attack. It is able to do all of this because it has 250 mg of CoQ10. The bioperine found in this product helps the coenzyme Q10 get absorbed and improves its bioavailability. This product contains no animal product and therefore, vegan. It also does not contain any preservatives, fillers, hormones, artificial colors, or binders.
Daily Serving
It is recommended to take 2 capsules a day. The 2 capsules should be taken 30 minutes before a meal with a full glass of water. If you take this supplement continually, you should take only 1 capsule a day. You should consult with your doctor before taking this supplement as well as any other supplements.
The Cost
If you would like to purchase 1 bottle of Research Verified CoQ10, it costs $48 and will last you about a month. The good news is that you can get it at a much more affordable price if you buy it in larger quantities. You can get a 3 months supply for $33 each, and a 6 months supply for $24 each. Obviously the greatest deal is for the 6 months supply. $24 per bottle makes this product very affordable.
Guarantee
This product has an astounding 365-day money-back guarantee. The manufacturers are so confident in the effectiveness of this product that they believe you won't need to even use the guarantee. They also understand that products work differently for everyone so they want to make sure you have the option to try the product risk-free. You must return all opened and unopened bottles to receive a full refund minus shipping and handling.
Our Review Summary of Research Verified CoQ10
Research Verified CoQ10 has made a believer out of us that it is a very effective cardiovascular and cognitive health product. It has the right amount of CoQ10 and bioperine to make it a highly effective product. At first glance, this product may seem expensive, but in reality it is very affordable since there are many different buying options. You can get a 6 months supply for $24 a bottle. That is $24 a month, which is a great deal. With their amazing 365-day money-back guarantee, you really have nothing to lose. You are able to return opened bottles as well as all your unopened bottles. This product definitely speaks volumes for itself.
Well researched reviews, from the experts at Research & You.