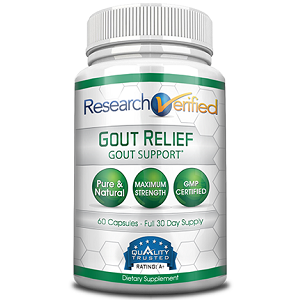 Research Verified Gout Relief - Does it Work?-Review
What is Research Verified Gout Relief
Gout is a type of arthritis that can cause severe pain and swelling in a joint. Gout is caused by a chemical in the blood, called uric acid. Symptoms include warmth, pain, swelling, and tenderness in a joint, typically a big toe joint. No one wants to experience such a thing, and it is a wonderful thing that there is something to help. This review is for a product called Research Verified Gout Relief. Research Verified has created a supplement for gout relief, to relieve the aches and pains.
Ingredients & How it Works
Research Verified has formulated this product according to scientific research, so you are guaranteed a safe and effective product. To learn more about this manufacturer and why we think their products are of the best in the industry, see a full Research Verified review. You will see how we can trust that their ingredients are top-notch.
Research Verified Gout Relief comes as two types of supplements. One is a dietary supplement, and the other is an extract.
Gout Relief Ingredients:
Tart Cherry
Artichoke
Garlic
Yucca Herb Stock Leaf
Dandelion Extract
Tart Cherry is a vital ingredient in Gout Relief. Cherry juice has long been used by gout sufferers, to reduce and alleviate attacks.
Artichoke is packed with health benefits, containing vitamins and minerals. They are also packed with antioxidants and anti-inflammatories.
Turmeric is another powerful ingredient contained in Gout Relief. Curcumin is the active ingredient in turmeric. It serves as an anti-inflammatory and an antioxidant. One of the health benefits of turmeric is that is can lower your risk of heart disease and can even help prevent cancer as well as lift your mood and help with any digestive issues that may be bothering you.
Garlic is another potent ingredient. Garlic is known to boost positive functions of the immune system. Research shows that garlic can also help combat the common cold. In addition, active ingredients in garlic can help reduce blood pressure and improve cholesterol levels, which may lower your risk of heart disease.
Daily Serving
The servings for Gout Relief and Tart Cherry are as follows:
It is suggested that you take 2 capsules daily. For optimal support, take one capsule, two times a day before meals, with an 8 oz glass of water.
The Cost
There are many different choices of packages for purchase, all of which can be easily found online. There are three different options for purchasing both the Gout Relief and Tart Cherry together. Your first option is two bottles (2 months supply) for $40 each, $80 in total. The next possible purchase is four bottles (4 months supply), costing $29 each, and $116 in total. Your last option for this specific package is six bottles, costing $29 each, and $144 in total.
Guarantee
Research Verified is so confident that you will be satisfied with their product, that they offer a 365 risk-free money back guarantee.
Our Review Summary of Research Verified Gout Relief
Research Verified's Gout Relief is carefully crafted, based off of scientific research and clinical data. The ingredients are natural, without additives or preservatives. You can rest assured that, if you're not satisfied with Research Verified Gout Relief, you will most definitely be refunded 100%. Because of their top ingredients, Gout Relief helps treat painful arthritis better than any other supplement on the market. We are confident that Gout Relief is the best product on the market.
Well researched reviews, from the experts at Research & You.