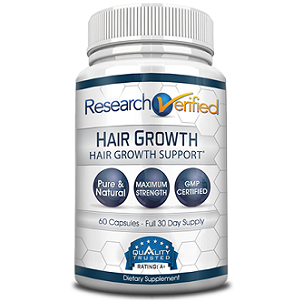 Research Verified Hair Growth - Does It Work?-Review
What is Research Verified Hair Growth?
The industry has many hair growth products all claiming to offer the best results. This review focuses on one top-quality solution called Research Verified Hair Growth. The remedy has managed to garner success for its dual-purpose approach in reversing hair loss and promoting the growth of thick and healthy hair. The manufacturer combines tocotrienols and biotin to provide consumers with the ideal potency. Research Verified asserts that this product is your ultimate solution to baldness and weak hair. We decided to carry out an investigation to verify the mentioned benefits and see whether the product actually works.
Ingredients and How It Works
The primary elements are tocotrienols and biotin that provide a dual-action approach. They reduce the production of follicle-blocking hormones in the body to stop further hair loss and secondly, to stimulate the scalp and provide the necessary nutrients for the growth of new and healthy hair.
Other elements include:
Vitamin E - 24IU
Biotin - 500mcg
Vitamin A - 5000IU
Vitamin B6 - 20mg
Vitamin B2 - 10mg
Vitamin B12 - 10mcg
Copper - 900mcg
Folic acid - 200mcg
Iron - 10mcg
Iodine - 150mcg
Pantothenic Acid - 50mcg
Selenium - 70mcg
Zinc - 16mg
Borage Oil - 20mg
Methylsulfonylmethane - 100mg
L- Cysteine - 200mg
Ginkgo Biloba - 120mg
Saw Palmetto - 400mg
Silica - 50mg
Daily Serving
Research Verified Hair Growth Supplement is intended to be a dietary supplement. The manufacturer recommends that you take one capsule two times daily before meals and accompany it with an 8 oz. glass of water.
The Cost
Research Verified provides a transparent website that is easy to navigate. Placing an order online is even easier as the manufacturer allows PayPal Credit or Amazon payments, Visa, and Master Cards. Since hair growth will not occur overnight, we acknowledged the company's effort to provide your shopping cart with a 6-month supply package which saves you $277.70. Single bottles are also available for $48 each. There is also a 3-month supply that retails at $98. As you check out, RV has some incredible offers worth your consideration.
Guarantee
Research Verified is confident that you will find your purchase satisfactory. As such the company gives one of the best consumer satisfaction safeguards in the market: A rock solid 365-day risk-free period and 100% money back guarantee should you feel not completely satisfied with the purchase. The company accepts opened and unopened bottles so if you had taken advantage of bulk buying, no worries, and all your returns are eligible for a refund.
Our Review Summary Of Research Verified Hair Growth Supplement
At the time we were wrapping up this research, we had established that this solution was one of the best hair growth supplements available in the industry. Each capsule contains the most potent combination of biotin and tocotrienols, which completely manages baldness to give you a head full of hair in no time. We found that your online purchase is protected by buySAFE, a leading and reputable online protector against ID theft, overpricing, and poor delivery. Research Verified is FDA approved and they manufacture this product from high-quality ingredients in a cGMP-certified laboratory. We found no added additives like binders and fillers. So if you are tired of hair products that fail you, consider Research Verified Hair Growth. The only minus we identified is that due to the incredible bulk buying discounts offered, the supplement runs out of stock fast. To avoid being on the waiting list, consider buying now or in bulk and enjoy a full head of healthy hair.
Well researched reviews, from the experts at Research & You.