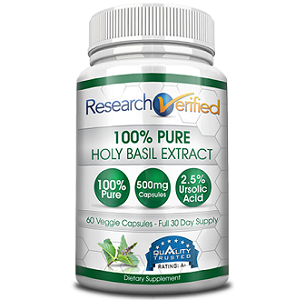 Research Verified Holy Basil Extract - Does It Work?-Review
What is Research Verified Holy Basil?
Stress. It's a word and, unfortunately, a condition many people are familiar with as they battle limits in time and energy while trying to do everything that needs to get done in a day. There are endless anti-stress solutions available in any number of formats, from aromatherapy to yoga to supplements. It can be very difficult to choose which one is the best. The first thing we like to look at is the manufacturer themselves to see what standards they hold to. Many Research Verified reviews have found this company to be one of the best.
Regarding products to manage stress, Research Verified may have the solution you are looking for. Research Verified Holy Basil is a nutritional supplement which, says the company, simply helps reduce and even get rid of stress. It says its formulation is based on the components and their quantities used in clinical trials that showed the effectiveness of holy basil in cutting stress. It also notes that holy basil has been shown in additional studies to support the immune system, provide antioxidant properties and regulate blood sugar levels.
Is Research Verified Holy Basil the holy grail of anti-stress supplements? Read our full review below and get all the information you need to decide for yourself.
Ingredients & How It Works
Each dosage of two capsules contains 1000 mg of Holy Basil extract, standardized to a minimum of 2.5% Ursolic Acid. In Ayurvedic medicine, holy basil is classified as an "adaptogen". It does not function as a direct moderator of mood but, rather, helps you function better during times of stress. Eugenol (a component of holy basil) for example has been shown in studies to help combat stress. Holy basil has also been found to decrease the levels of corticosterone, a stress hormone. 
Daily Serving 
The daily recommended dosage of Research Verified Holy Basil is two capsules per day, ideally each one 30 minutes before a meal, with a glass of water. If necessary, both capsules can be taken together but they may not be as effective if you do so.
The Cost 
The product is available for purchase directly from Research Verified's website. A single 60-count bottle (a month's supply) costs $48.00, a three-bottle package brings the unit price down notably to $33.00 and a six-bottle set reduces the per-unit cost further to $24.00.
Guarantee
Research Verified Holy Basil, as with all of the company's products, comes with what is just about an unbeatable money-back guarantee. You have a full year during which you can return your purchase, and that includes both open/used and unopened bottles, for a refund of your purchase price. 
Our Review Summary of Research Verified Holy Basil
We like the fact that Research Verified Holy Basil's preparation is based on the properties used in actual holy basil clinical studies that showed real-world effectiveness in relieving stress. We also like the thought and effort put into its production as it is manufactured in an FDA-registered facility according to cGMP standards. In addition, the company has its batches tested by a third party to ensure quality and consistency. While the single-bottle price is a little steep, the comprehensive money-back guarantee makes it easy to buy one of the multi-bottle packs without having to worry about losing your money if the product doesn't work for you. This policy also tells us the company believes in and backs its product. Our conclusion to this review is that it is a product you should consider trying.
Well researched reviews, from the experts at Research & You.