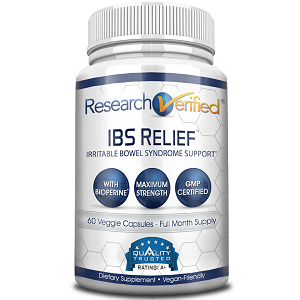 Research Verified IBS Relief - Does It Work?-Review
What is Research Verified IBS Relief?
The following is our review of Research Verified IBS Relief. It is a supplement designed to help treat IBS and other digestive issues. The ingredients were hand-picked by scientific researchers and medical doctors. It was based on clinical data to get you the best results faster than any other similar supplements on the market. It is a multi-action formula that provides rapid relief while also promoting long-term health. It was made in a FDA registered, cGMP certified lab that follows the US Pharmacopeia's quality standards. Continue reading for our full review.
Ingredients & How It Works
Vitamin D – 20 mg
Psyllium – 600 mg
Perilla – 150 mg
Peppermint – 80 mg
Aloe Vera – 75 mg
Fennel – 20 mg
Ginger – 20 mg
Turmeric – 20 mg
BioPerine (Piperine) – 10 mg
Long Pepper – 10 mg
Cumin – 10 mg
10  Natural Enzymes
The ingredients are meant to promote and help maintain intestinal health by cleansing the intestines of waste and toxins. The ingredients also work as soluble dietary fiber which should help keep everything flowing smoothly and prevent constipation, IBS, and diarrhea. They also provide anti-inflammatory effects which can help treat hemorrhoids.
Daily Serving
It is recommended to take 2 capsules a day. You should take them 30 minutes before a meal and with a full glass of water. You should decrease to 1 capsule a day if you take this supplement long-term.
The Cost
A 1 month supply of Research Verified IBS Relief is usually sold for $69.95, but is on sale for $48.00. If you buy the supplement in larger quantities, they are available for more affordable prices. A 3 month supply costs $33.00 each and a 6 month supply cost $24 each. It is a very affordable product if you buy it in bulk.
Guarantee
The manufacturers offer a risk-free 365-day 100% money-back guarantee. They are extremely confident in the quality of this product and its effectiveness. They accept return of empty, used, or unopened bottles. To get a full refund, minus shipping and handling, you will need to first contact customer support. They understand that everyone is different and what works for some people may not work for other so they want to provide you with the utmost confidence while purchasing this product. The manufacturers also don't want you to have to pay for something that doesn't work for you.
Our Review Summary of Research Verified IBS Relief
Research Verified IBS Relief has many positive qualities. Unlike other similar products on the market, this supplement was made with the highest quality ingredients with the most ideal concentration so you get the perfect dose to give you the optimum results you deserve. The ingredients were also proven to be effective in clinical studies. The lab it was produced in was FDA registered, cGMP certified, and follows the US Pharmacopeia's quality standards. This product is also sold in different quantities, so you can get a great deal of only $24 per month's supply. With such a strong manufacturer's guarantee that gives you a whole year to figure out if this product works for you, there really is nothing to lose while trying this product.
Well researched reviews, from the experts at Research & You.