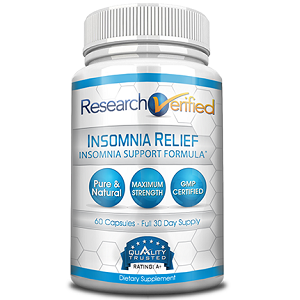 Research Verified Insomnia Relief - Does it Work?-Review
What is Research Verified Insomnia Relief?
In today's world, many people live in a high-stress environment. Juggling work life, family life, social life, etc., can be a recipe for stress. One of the most crucial parts for handling stress is ensuring that you get a good nights sleep. However, if you suffer from insomnia, that is hard to do. Common causes of insomnia include stress, anxiety, asthma, allergies, and chronic pain. The following review is for a product called Insomnia Relief, by Research Verified. Based off of thorough research, Insomnia Relief was created as a dual-action solution so that people suffering from insomnia no longer have to have sleepless nights. Insomnia Reliefs' ultimate goal is to rid your life of poor quality sleep and restless nights spent staring at the ceiling.
Ingredients & How it Works
The following list contains the ingredients that make up Insomnia Relief
L-ornithine
Chamomile Flower
Passionflower Extract
Hops Flower
Magnolia Bark
Jujube Extract Seed
All of the listed ingredients above were picked by a team of doctors and scientific researchers, based off of clinical data.
A few notes on the ingredients:
Melatonin, for example, is a natural human hormone which helps regulate the sleep-wake cycle. Studies have shown that prolonged-release Melatonin enhances sleep quality, contributing to a healthier, more energizing sleep than many sedative drugs. Another ingredient in Insomnia Relief, the chamomile flower, contains many benefits for the human body, including anti-inflammatory and anti-anxiety properties. Chamomile has been long used as a calming agent and sleeping aid. Similar to the chamomile flower, reishi mushrooms contain anti-inflammatory and anti-allergic properties. Reishi mushrooms are commonly used to alleviate insomnia. L-ornithine is an amino-acid that provides powerful intervention by relieving insomnia, alleviating stress, and improving the quality of your sleep! These ingredients have been included because that's what clinical studies have shown to be ideal for an effective product. Research Verified reviews have shown us that this is a manufacturer to look into and that their products can be trusted.  
Daily Serving
You are meant to take 2 to 4 capsules daily, one hour before going to sleep.
The Cost
There are three different options for purchase. You can purchase a one month, three months, or six months supply. The one month supply comes with one bottle, costing $48. The three months supply comes with 3 bottles, each bottle costing $33. The six months supply comes with six bottles, costing $42 for each bottle.
Guarantee
If you are not satisfied with your product, there is a 365-day money back guarantee. If you are not satisfied with the product, you simply need to return all bottles for a full refund, excluding shipping charges.
Our Review Summary of Research Verified Insomnia Relief
Insomnia Relief is arguably the best supplement on the market to take for those suffering from insomnia. Insomnia Relief contains specific clinically proven ingredients that are extremely effective. There are no additives, preservatives, or artificial ingredients. Therefore, you can be sure that you are putting the best ingredients in your body. Additionally, you can rest assured that insomnia relief is manufactured in an FDA registered lab that is also cGMP certified. We are certain that Insomnia Relief will help you finally get that good night's sleep you've always wanted.
Well researched reviews, from the experts at Research & You.