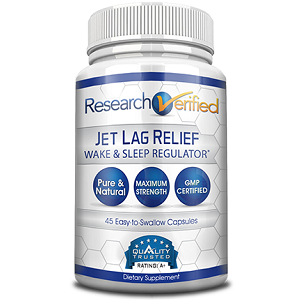 Research Verified Jet Lag Relief- Does it Work?-Review
What is Research Verified Jet Lag Relief?
Whether you're traveling for business or pleasure, experiencing jet lag is never a pleasurable experience, and it can really interfere with your travel plans. There are numerous supplements on the market that claim to relieve jet lag. The following review is for a product called Research Verified Jet Lag Relief. Jet Lag Relief is arguably the most effective and helpful supplement to help alleviate jet lag. Not only does Jet Lag Relief help mitigate stress during your journey, but it additionally helps balance the body once you've arrived at your destination.
Ingredients & How it Works
Each of the following ingredients was hand picked by professionals in the field, based off of thorough scientific research and clinical data.
Calcium
Vitamin B blend
L-ornithine
L-theanine
Chamomile
DMAE
Further explanation on a few of the ingredients:
Magnesium is typically used to fight stress and restlessness by developing a sense of muscular and physical calm. Calcium works with Magnesium in that it helps aid absorption of both minerals, while simultaneously replenishing the body of electrolytes and helps relax muscles and relieve restlessness. Similarly, Chamomile contains ingredients that are known to relax muscles. Chamomile can also be used to treat stress and insomnia. The Vitamin B blend helps convert our food into fuel, providing us with energy throughout the day, which is well needed when trying to combat jet lag. What we like about this product, and the manufacturer in general, is that it is backed up by science. All the ingredients included have a purpose. This is what the manufacturer stands for, only the best. You can find out more about Research Verified online both through their website and different reviews. 
Daily Serving
Research Verified Jet Lag Relief suggests that you take two capsules 30 minutes before take-off. Upon arrival, take two more capsules. After landing, take one capsule daily until jet lag symptoms have worn off completely.
The Cost
All Research Verified products are available to purchase online. There are three options for purchase. You can purchase a one month supply, which comes with one bottle, costing $48. There is a three month supply, coming with three bottles, each bottle costing $33, $98 in total. Finally, there is a six month supply, which comes with six bottles, each one costing $24, $142 in total.
Guarantee
Research Verified is so confident that this jet lag product will work for you, that they offer a risk-free 365-day money back guarantee if you are not satisfied with the product. This is most definitely the best guarantee offered on the market.
Our Review Summary of Research Verified Jet Lag Relief
With hundreds of supplements on the market, Jet Lag Relief is arguably the most effective and safest. This product contains the highest quality ingredients and is manufactured in the USA in an FDA registered laboratory that is also cGMP certified. In addition, you can rest assured that if you are not satisfied with Research Verified Jet Lag Relief, all you need to do is return the bottles within 365 days for a full refund. You can even return opened, used, or unused bottles. We are confident that Jet Lag Relief is the best product out there to combat jet lag and to help you enjoy your travels.
Well researched reviews, from the experts at Research & You.