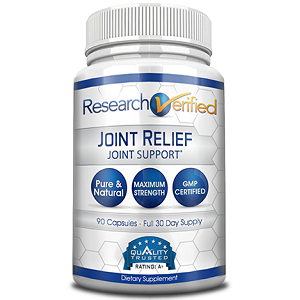 Research Verified Joint Relief - Does It Work?-Review
What is Research Verified Joint Relief?
Search for joint support supplements on your search engine and you will see how hot the product is with the rave of manufacturers each having their own "top-notch" brand. We investigated most these hot brands and the results were disheartening until we came across Research Verified Joint Relief. We then decided to carry out a comprehensive analysis of this top-quality product that is made based on clinical research and scientific data. We are more than happy to share the following findings in our review about Research Verified Joint Relief.
Ingredients & How They Work
Glucosamine Sulfate - 1300mg
Methylsulfonylmethane (MSM) - 400mg
White Willow Bark Extract - 250mg
Chondroitin Sulfate L-Lysine - 100mg
Boswellia Serrata Gum - 75mg
CMO (Cetyl Myristoleate) - 50mg
Holy Basil Leaf Extract With 2.5% Ursolic Acid - 50mg
Turmeric Extract Standardized To 95% Curcuminoids - 50mg
Ginger Root Extract Standardized To Have 5% Gingerols - 25mg
Bromelain - 20mg
L-Glutamic Acid - 20mg
Black Catechu Bark - 10mg
L-Cysteine - 9.8mg
Hyaluronic Acid - 4mg
Rutin - 2mg
Ingredients such as Glucosamine Sulfate, Methylsulfonylmethane (MSM), Chondroitin Sulfate, and CMO (Cetyl Myristoleate) are well known for their positive effects on joint health. These ingredients have also been proven clinically to provide support for joints. This product also contains turmeric, which is an essential ingredient for a joint support supplement due to its anti-inflammatory and antioxidant properties.
Daily Serving
For optimal results, Research Verified recommends that adults should take three capsules daily; one capsule before each meal with 8 ounces of water. For maximum benefits, incorporate light exercise and a balanced diet into your daily routine. People under the age of 18 years, and nursing and pregnant women should consult a qualified physician before taking this supplement.
The Cost
The good news is that all Research Verified products are easily available online from their website. Incredible discounts await you for every purchase you make. We found that a single bottle of 90 capsules, enough to last you a full month, retails at $48. You can also indulge in multiple purchases and enjoy a good tide of discount which saves you more than $200 when you buy the six-pack deal at a total cost of $142. Considering that joint pain needs time to completely heal, buying in bulk poses as the best purchasing deal worth your consideration.
Guarantee
Research Verified believes that you deserve the best joint relief products. They concentrate on giving you a superior product with a dose that works in relieving symptoms of joint pain and also heals the joint by ensuring continued lubrication. As such, the manufacturer has put in place one of the best consumer satisfaction guarantees in the industry. This product has a one-year risk-free period and a full reimbursement should any dissatisfaction arise from its use. Within that time, which is enough for you to really feel the effects of this product, you can return all opened and unopened bottles and be refunded.
Our Review Summary of Research Verified Joint Relief
After delving deep into the supplement industry searching for a joint support supplement that alleviates joint pain and provides complete nourishment to ailing joints for a full recovery, our review found that Research Verified Joint Relief is that one support formula enough to deliver satisfying results. The manufacturer has put together a complex blend of super ingredients that will provide total care for your joints, including facilitating the growth of structural proteins to run strong tendons and ligaments and also help to prevent future complications. There are no binders or fillers to water down the dosage or complicate the problem at hand. When combined with the rave positive customer reviews we found on other sites from consumers who have used Joint Relief, there is no doubt that Research Verified Joint Relief is your "go-to" choice. Try it and see what Research Verified has in store for you, for we are sure that you will verify the product too.
Well researched reviews, from the experts at Research & You.