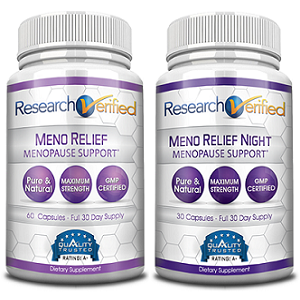 Research Verified MenoRelief - Does It Work?-Review
What is Research Verified MenoRelief?
This is a review for Research Verified MenoRelief supplement. Menopause is a tiring process that all women must go through in their life. While there are many supplements that try and promote healthy options that will get rid of hot flashes and relieve a woman of her symptoms, not many actually deliver. This is where MenoRelief comes in. With its night and day formula to distinguish between a woman's needs during daytime and nighttime, it provides more targeted benefits. Moreover, the ingredients are effectively proven for the total care of menopause and symptoms such as insomnia, fatigue, mood swings and of course, hot flashes.
Ingredients & How It Works
MenoRelief comes in two formulas: Daytime and Nighttime.
Daytime Formula:
Roseroot - 340mg
Black Cohosh - 320mg
Chasteberry - 200mg
Red Clover Flower Powder - 200mg
Soy Isoflavones - 150mg
Passionflower extract - 100mg
DIM (Dindolylmethane) - 100mg
Soy Lignans - 100mg
Wild Yam - 70mg
Boron - 10mg
Tocopheryl Acetate - 7mg
Protykin - 4mg
Zinc Difumarate Hydrate - 2mg
Other ingredients include: Gelatin, Magnesium Stearate, Calcium Carbonate
Nighttime Formula:
Valerian Root - 200mg
Hesperidin Complex - 200mg
Calcium Citrate - 200mg
Magnesium Oxide - 30mg
Passionflower Extract - 50mg
Ammonium Succinate - 50mg
5-HTP - 50mg
Potassium Citrate - 15mg
Glycine - 15mg
Melatonin - 2.5mg
Other ingredients include: Gelatin, Magnesium Stearate, Microcrystalline Cellulose, Silicon Dioxide
Both supplements are 100% pure ingredients with no preservatives, hormones or artificial colorings. All ingredients treat a different aspect of menopause. For example, Roseroot is known to help with fatigue, Black Cohosh to help reduce hot flashes, Chasteberry for mood swings and a healthy hormonal system, and Passionflower Extract for restlessness. The night ingredients are focused to provide added minerals and vitamins, while combating insomnia and reducing mood swings. Research Verified has only included ingredients that have been shown to be effective in dealing with the uncomfortable symptoms of menopause. You can find out more about Research Verified on their website, as well as different reviews, to see everything they have to offer when it comes to manufacturing supplements.
Daily Serving
One daytime capsule should be taken twice a day, prior to a meal with a full glass of water.
The nighttime capsule should only be taken once daily prior to bedtime.
Any woman pregnant or nursing, any persons under the age of 18, or anyone with an already known medical condition should consult a physician before using.
The Cost
Customers suffering from menopause can either purchase one bottle of MenoRelief Day or Night for $48 each. You can also purchase a combination of the day and night formula for $40 each. A two months' supply (4 bottles) will cost $29 each bottle and a three months' supply will cost $24 per bottle, resulting in a 66% savings.
Guarantee
Research Verified is so confident in MenoRelief that they are giving their clients one year to decide whether or not they like the results of their products. If you are unsatisfied after 365 days, you can return the bottles and get your money back.
Our Review Summary of Research Verified MenoRelief
Research Verified MenoRelief has it all starting with the winning ingredients divided into two formulas to battle menopausal symptoms at the time they happen. Each ingredient is pure and natural and is based on clinical research to know exactly the quantities needed to make sure your body receives the proper treatment. Moreover, Research Verified's refund policy is extremely generous and they provide wonderful customer service care. We believe this is definitely a product worth trying.
Well researched reviews, from the experts at Research & You.