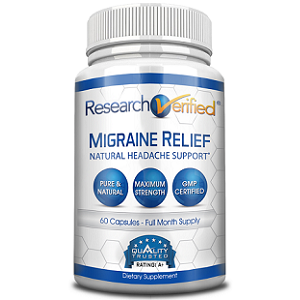 Research Verified Migraine Relief - Does It Work? - Review
What is Research Verified Migraine Relief?
Have you ever had such an unbelievable migraine that you could not figure out how to get rid of it? Even with a pill, the concentration was so strong, you were afraid it would be dangerous to your health. This review of Research Verified Migraine Relief will give you all the background you need to no longer keep looking for a migraine relief medication. No need for prescription pills that can have long-term effects. Research Verified came up with their own formula that will really help you with your impossible headaches.
Ingredients & How It Works
Riboflavin - 400mg
Niacin - 2mg
Magnesium - 360mg
Butterbur (Petasites) - 150mg
Feverfew - 100mg
Ginger - 10mg
Black Pepper (Piperine) - 10mg
Ginkgo Biloba - 10mg
Wild Yam Root - 10mg
Bromelain (from Pineapple) - 10mg
White Willow - 10mg
Other ingredients include: Gelatin, Magnesium Stearate, Calcium Carbonate
When combatting migraines, ingredients matter. There are many ineffective or otherwise dangerous combinations. Research Verified pairs these natural ingredients for better repair and control. It has been documented that those who suffer from migraines often have low levels of certain vitamins in their bodies. This is why magnesium is an important part of the formula. Feverfew reduces the severity of migraines while Riboflavin is essential for your tissue to breathe. Wild Yam root balances the equilibrium of hormones and Piperine (Black Pepper) has been known to increase the bioavailability of nutrients so that you can reap the benefits faster!
This entire formula was created to really boost your system and to fight your migraine in the most holistic way. Check out our Research Verified reviews to see why Research Verified is a trusted manufacturer.
Daily Serving
Two capsules should be taken three times a day with food. For maintenance purposes, only one or two capsules should be taken daily as a dietary supplement.
The recommended dosage listed should not be exceeded. Pregnant and nursing women must consult a physician before using this supplement. Those with a known medical condition or under 18 years of age should also be in touch with a doctor prior to usage.
The Cost
A one-month supply of 60 capsules is $48. Alternatively, customers can purchase a three-month supply for $98 or a six-month supply for $142.
Guarantee
Migraines are always recurring and this is why the manufacturer offers a generous policy of a one-year risk-free trial or your money back. Research Verified have a telephone number and ample information on how to contact them displayed on their website; this makes the process easier for any client looking for feedback.
Our Review Summary of Research Verified Migraine Relief
Migraine Relief by Research Verified will rid you of your migraines without any side effects or prescription medications. With its all-natural ingredients that promote a multi-action formula to reduce the duration of attacks, as well as the severity of the attacks, you will be in good hands. Furthermore, Migraine Relief has excellent ratings and customers are raving about the effects and pain management of this formula. If you are having migraines, there is no harm to try Research Verified Migraine Relief.
Well researched reviews, from the experts at Research & You.