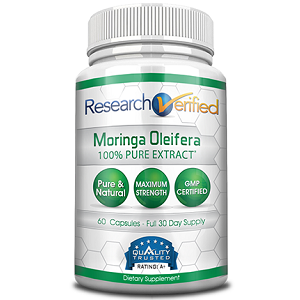 Research Verified Moringa Oleifera - Does It Work?-Review
What is Research Verified Moringa Oleifera?
There are many products out there that can confuse your journey to shed those unwanted pounds. They offer an easy process into weight loss but they never work. However, Moringa Oleifera by Research Verified has been verified by research to actually help suppress your appetite and simply lose weight if it is added as a supplement to your current daily routine. This review of Research Verified's Moringa Oleifera will show you that the specific potency of their formula will have you ready for the beach in no time!
Ingredients & How It Works
There is only one ingredient in this product and that is the 100% pure extract of Moringa Oleifera Leaf powder at 1200mg. Born from a plant in the areas of India, Pakistan, Bangladesh, and Afghanistan, it is often grown in the tropics and was quite frequently used to make medicine. Moringa is often used for joint pain and to reduce swelling. It also provides a lot of proteins, vitamins, and minerals when dried and can help with those who are not following a nutritious eating plan.
Daily Serving
Two capsules should be taken daily, one in the morning and one in the evening. Users may also choose to take two capsules together. Since this is a dietary supplement, it should be followed with meals. Each capsule contains a maximum of 600mg of serving to catapult on the maximum 1200mg of servings per day that the body needs for supreme results. Research Verified makes sure that their products contain the most effective dosages while maintaining safety. While conducting our Research Verified review, we discovered that this manufacturer only uses high-quality ingredients at the correct dosage found effective in clinical studies.
If you are under the age of 18, already have a known medical condition, are pregnant or nursing, you should seek the advice of a physician. Moreover, it is explicitly written that the dosage should not be exceeded.
The Cost
Real fat loss takes time. If you want to keep those pounds off, it will take time and dedication. Research Verified sells three different packages to help you buy enough product for the long-term while being able to save money. They offer a one-month supply for $48.00, a three-month supply for $98.00 and a six-month supply for $142.00.
Guarantee
This is one of the best points that the manufacturer provides, giving customers the chance to really try out their products before they make a final decision. Unlike other products where they provide you with a "free trial" but then sign you up for a monthly payment, Research Verified gives you 365 days to decide whether or not you want to stick with Moringa Oleifera as your dietary supplement. If you are not happy with the results, you can simply return both your open and unopened bottles for a full refund within 365 days.
Our Review Summary of Research Verified Moringa Oleifera
Moringa Oleifera by Research Verified seems too good to be true but it's not. It has no unnecessary ingredients and is not synthetic. It contains 100% pure Moringa Oleifera extract with the exact dosage needed and supported by clinical trials to promote weight loss. Moreover, reviews are raving that they have started seeing results within the first week of usage. It's quite simple: if you have trouble losing weight, then try this all-natural product. We have a feeling you won't need their generous refund policy.
Well researched reviews, from the experts at Research & You.