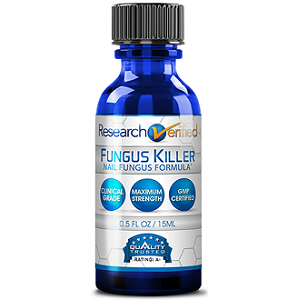 Research Verified Nail Fungus Killer - Does it Work?-Review
What Is Research Verified Nail Fungus Killer?
Nail fungus can be painful and cause thickened nails. Needless to say, it is quite unenjoyable to have nail fungus primarily because it can look very ugly and can often be painful. The following review is for the product called Research Verified Nail Fungus Killer. There are hundreds of remedies on the market, but none as effective as Research Verified Nail Fungus Killer. This product comes in an oil form that contains the purest and clinically proven ingredients to make sure that your nail fungus goes away and stays away.
Ingredients & How it Works?
The following ingredients work together to attack your nail fungus and get rid of it all together. Keep in mind that the ingredients are of the highest quality, and have been chosen based off of clinical research.
Undecylenic Acid (25%)
Sweet almond oil
Aloe Barbadensis
Jojoba oil
Black walnut
Propolis extract
Menthol
Camphor oil
Chia oil
Mineral oil
Canola oil
Tocopheryl Acetate
A few notes on some of the ingredients & how they work:
Undecylenic acid is an acid that prevents the growth of fungus. 25% is the highest percentage you can find, to ensure that your fungus will be optimally treated.
Aloe Barbadensis is commonly known as aloe vera. Its leaves contain a juice that holds anti-bacterial properties, as well as anti-inflammatory properties. Additionally, aloe vera soothes the skin from any irritation that the fungus may be causing.
Tocopheryl Acetate is a form of vitamin E that is highly absorbed into the skin, effectively hydrating and healing deep into the layers of your skin.
Daily Serving
The suggested use for optimal relief and healing is to apply the oil 3-4 times daily, morning, noon, and night. Use a nail file on the surface of your infected nail, once a week, to roughen the nail surface so that the oil can absorb. Lastly, use the applicator to apply the oil, and then a cotton swab to rub it into the infected area.
The Cost
Research Verified Nail Fungus Killer is offered in three different packages, all easily accessible online. You can purchase a one month supply, which comes with one bottle, costing $48. The second option is to purchase a three months supply, which comes with three bottles. Each bottle costs $33, $98 in total. Lastly, you can purchase a six months supply, coming with six bottles. Each bottle costs $24, totaling $142.
Guarantee
Research Verified is so confident with their product, that they offer a 365-day risk-free money back guarantee. You have a whole year to decide if you like the product or not. If you're not satisfied, they'll give you your money back, no questions asked. This is the best guarantee that we have found in the business. You can read different Research Verified reviews to learn more about all the benefits this manufacturer has to offer on top of their excellent guarantee. 
Our Review Summary of Research Verified Nail Fungus Killer
As we've said, there are hundreds of medications on the market that claim to kill your nail fungus. Some work better than others, but after much research, we've found that there is no better nail fungus treatment than RV's Nail Fungus Killer. You can rest assured that you are receiving the best treatment.
Well researched reviews, from the experts at Research & You.