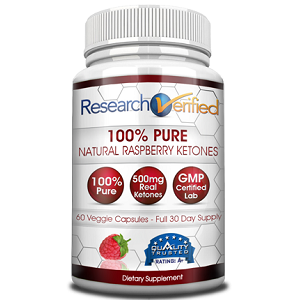 Research Verified Raspberry Ketone - Does it Work?-Review
What is Research Verified Raspberry Ketone?
Welcome to our Research Verified Raspberry Ketone review. This is a weight loss dietary supplement that aims to help an individual burn fat faster but still in a safe manner. It also helps increase stamina and boosts the body's immune system. If you are interested in learning more about this weight loss product, continue reading our in-depth review below.
Ingredients & How it Works
This is weight loss dietary supplement utilizes natural ingredients in order to deliver a relatively safe alternative to other weight loss supplements. It contains only one primary ingredient, raspberry ketones (1,000mg). The ketones in this supplement are derived from real raspberries and are not synthetically produced. Raspberry ketones can help the body lose weight by boosting its metabolism.
This product does not contain any binders, fillers, or artificial ingredients.
Daily Serving
The recommended dosage for this dietary supplement is 2 capsules per day.
Raspberry ketone extracts are relatively safe to take orally, however, it should be noted that exceeding the recommended dosage might be harmful to your health. Common side effects that might occur include increased heart rate, higher blood pressure, and jittering. Make sure you follow the instructions on the bottle to the letter to avoid these side effects from occurring.
It is also important to state that pregnant women, people who are under the age of 18, and those who have certain medical conditions should first consult their doctor before trying out any type of dietary supplement.
The Cost
Research Verified Raspberry Ketone is available online for $48 per 60-capsule bottle directly from the manufacturer's website. The website also comes with monthly supply package options, which is a great way to save money as weight loss does not happen overnight. The 3-month supply package includes 3 bottles and is priced at $33 per bottle. While the 6-month supply package comes in at $24 per bottle.
Guarantee
Research Verified Raspberry Ketone comes with a 365-day money back guarantee. You can avail this to get a full refund, with the exclusion of the delivery fee which the customer will shoulder if you are unhappy with the results of this product. The customer can return both opened and unopened bottles as well.
Our Review Summary of Research Verified Raspberry Ketone
Research Verified Raspberry Ketone contains a higher dose of ketone extract which translates to faster results. This potency is also based on clinical studies so you are ensured a safe and effective product. The bulk purchase options are also a great way to save money, as weight management is generally long-term.
Research Verified also offers a 365-day money back guarantee. If you find that the product does not meet your desired results, you can ask for a refund. This is one of the best refund policies available on the market which is very hard to come by. Research Verified seems to be a manufacturer that is worth buying from. They really seem to care about their customers and all their products offer only the most effective and safe ingredients. To see our Research Verified review, click here.
Well researched reviews, from the experts at Research & You.