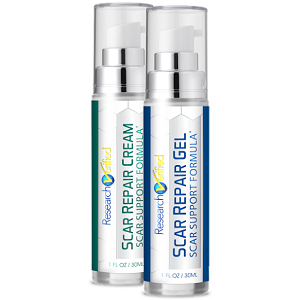 Research Verified Scar Repair - Does It Work?-Review
What is Research Verified Scar Repair?
This is a review for Research Verified Scar Repair Gel & Cream. There are many treatments available online and in stores that claim to have the best ingredients to fade and eventually remove scars completely. However, many of those treatments are not effective in skin renewal and rejuvenation. This is why Scar Repair Gel & Cream works so effectively. Being that it is a two-step process of internal healing with the repairing gel and skin nourishing with the revitalizing cream. Read below to find out why it's the right product for you.
Ingredients & How It Works
Research Verified sells Scar Repair in a gel and cream form for better action.
The gel contains a blend of 3 different kinds of medical grade silicon, including:
Dimethicone
Cyclomethicone & Dimethiconol
Cyclopentasiloxane & Dimethicone/Vinyl
Cream ingredients:
Onion Bulb Extract
Water
Sunflower Seed Oil
Safflower Seed Oil
Tocopheryl Acetate (Vitamin E)
Jojoba Oil
Polysorbate-80
Allantoin
PEG-4
Vitamin C
Organic Rose Hip Seed Oil
Immortelle Extract
Partially Hydrolyzed De Oiled Soybean Lecithin
Phenoxyethanol
Potassium Sorbate
Butylated Hydroxytoluene
Citric Acid
Medical grade silicon plus aloe vera, onion extract, emu oil, palmarosa lavender, vitamin C and more are key ingredients that have been clinically proven to fade and reduce scars. Three layers of silicon in the gel provide a protective layer that seals in the moisture and speeds up healing.
Daily Serving
Both the gel and the cream must each be massaged into the area in a circular motion at least three times a day. Massage should be gentle and hands must be washed immediately after.
Both products should not be swallowed or be in contact with the eyes. Medical attention should be received if it does come into contact with the eyes or if an irritation occurs from use.
The Cost
Research Verified offers a few different purchasing options for any budget. Scar Repair is sold separately either the gel or the cream form at $48 a bottle. However, since the best form of action is a combination of both, we suggest either one bottle of each at $40 a bottle, or two bottles of each at $29 a bottle or three bottles of each at $24 a bottle. This Research Verified review shows that the cost of the product is not the only way Research Verified looks out for their customers.
Guarantee
Research Verified has an excellent policy of trying their products risk free for 365 days, and if you are not happy with the results, receiving a 100% money-back guarantee. All bottles can be returned, excluding shipping charges. This is an outstanding procedure for products of this kind.
Our Review Summary of Research Verified Scar Repair
Many manufacturers out there will confirm to you that they can fix your scars and repair your skin with just a cream or gel or even capsules. However, Scar Repair goes beyond the necessary treatments by providing you with a twofold action of repair and rejuvenation. With the gel which includes three kinds of medical grade silicone to protect the skin and the cream that is focused on soothing the skin and boosting moisture, it is clear that this is a winning combination. Based on the research this product is supported by, we think it is a worth trying. And if you are not happy with the results, you have an entire year to return the product for your money back! This seems like a risk-free purchase.
Well researched reviews, from the experts at Research & You.