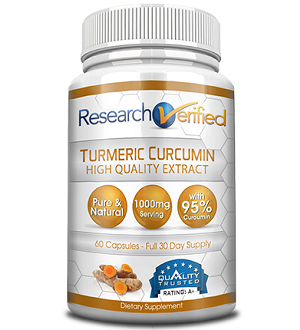 Research Verified Turmeric Curcumin - Does It Work?-Review
What Is Research Verified Turmeric Curcumin?
The supplement industry is full of turmeric products all claiming to have the best product to complement your diet that your busy lifestyle deserves. However, most of these manufacturers are in the game for money and to extort you. Amidst all that confusion and the unsubstantiated claims, we came across Research Verified Turmeric Curcumin. The product has 95% curcuminoids as the key ingredient and the manufacturers have added Bioperine to enhance the supplement's action. We decided to review this top product so that we can inform the buyer what Research Verified Turmeric Curcumin Extract is all about.
Ingredients and How They Work
Turmeric root extracts (Turmeric Curcumin) with 95% curcuminoids (1000mg) - Provides a punch against fat by lowering serum cholesterol and other proteins that facilitate fat production and also speeds up fat metabolism to reduce body fat and total weight. Curcumin is a very powerful antioxidant needed for general body health.
Black pepper fruit extracts (Bioperine) (20 mg) - A natural substance that promotes the absorption of curcumin by almost 2000%; curcumin is poorly absorbed into the bloodstream, and black pepper enhances this absorption.
This turmeric product contains no additives, preservatives, fillers, or unnecessary ingredients. The supplement is 100% pure and natural; made in an FDA-approved laboratory and a cGMP-certified facility.
Daily Serving
Research Verified recommends that for best results, take one 500 mg capsule twice a day. For an improved disposition and faster fat reduction, take the capsule 30 minutes before meals and down it with an 8 oz. glass of water. There are 60 capsules in each bottle, enough to last you a month.
The Cost
We found Research Verified has an easy to navigate website where all the products on sale are well explained. During this research, we found that the manufacturer has incredible purchase packages that suit every consumer:
One bottle is selling for $48 each, which is 31% off the regular price.
The three-month supply retailed at $98, saving you 53%.
Finally, the six-month package sells for $142, saving you 66%.
Purchasing products online with Research Verified is quite easy. More importantly, you can pay with Amazon or PayPal Credit.
Guarantee
Research Verified is one of a kind. It offers one of the best consumer satisfaction guarantees that we have found in the industry. The manufacturer is confident that you will find your purchase satisfactory. As such, consumers have 365 days to try out this turmeric product, and if for any reason there is any dissatisfaction, then you can return empty or full bottles for a 100% reimbursement. No questions asked.
Our Review Summary Of Research Verified Turmeric Curcumin Extract
At the end of this review, we discovered that this product is one of the best turmeric products within the industry. It contains standardized 95% curcuminoids; the recommended concentration of a turmeric substance that supports mood, increases nutrient absorption and reduces body fat build up. The manufacturer adds Bioperine for optimal absorption. We found that Research Verified protects online purchases by employing the services of third-party protectors like Norton Secured and buySAFE. Additionally, the manufacturer conforms to strict regulations stipulated by the US Pharmacopeia, FDA, Quality Assurance, and has a Good Manufacturing Practices certification. Combined with clinical studies and handpicked ingredients, Research Verified Turmeric Curcumin Extract is the ideal solution that can free you from a stressful lifestyle. So order now if you want to try something that works.
Well researched reviews, from the experts at Research & You.