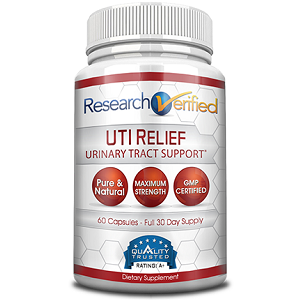 Research Verified UTI Relief - Does It Work?-Review
What is Research Verified UTI Relief?
Urinary tract infections are distressing, painful, and sometimes dangerous. With all the dangers of antibiotic resistance, we feel a natural treatment is preferable. There are many remedies and preventives on the market, making finding the best difficult. Here we review one such product, Research Verified UTI Relief.
Ingredients & How It Works
Primary Ingredients:
Secondary Ingredients:
Gelatin
Magnesium Stearate
Calcium Carbonate
This list of all natural ingredients includes elements to treat existing infections and prevent recurrence. They inhibit bacterial growth and keep it from adhering to the bladder wall. We like that it contains no synthetically produced antibiotics, colorants, flavorings, or fillers. It is made in an FDA-registered cGMP-certified facility located in the United States. The assures of the quality and safety of Research Verified UTI Relief.
Daily Serving
Consumers may take up to six capsules per day, two at each meal. For maintaining an already healthy bladder, Research Verified recommends taking two capsules per day, one in the morning and one in the evening, before eating. Always take this and other supplements with a full eight-ounce glass of water.
The Cost
Prevention is always better than cure. Maintaining a healthy bladder is easier with a daily supplement. Bulk ordering from Research Verified makes avoiding the hassle of frequent reordering effortless. They sell UTI Relief through their website in single and multiple bottle packages. One bottle, a one-month supply, is $48. A three-month supply costs $98. Fantastic savings comes with the six-month supply costing $142. This means a discount of $24 per bottle. All prices date to the time of this writing.
Buying from Research Verified's secure website is fast and simple. They accept payment through Amazon and PayPal in addition to all major credit cards. They ship quickly and securely via FedEx and the United States Post Office.
Guarantee
A good product warrants a good guarantee. Research Verified's guarantee is fantastic. Customers have a full year in which to return the purchased supplement, for any reason. It impressed us greatly that this policy extended to opened as well as unopened bottles. Opened bottles cannot be resold and are a loss to the manufacturer. Offering a refund for them puts consumer satisfaction before profit. These generous terms eliminate all risk when buying UTI Relief.
Our Review Summary Of Research Verified UTI Relief
We are extremely impressed with Research Verified UTI Relief. This Research Verified brand review tells you all you need to know about this top-notch manufacturer and what they offer you, which led us to believe this is a company worth spending your money on. The all-natural ingredient list is without added fillers, colorants or flavorings and carefully measured to provide just the right dose of every element. UTI Relief is produced in the United States in a lab that meets or exceeds cGMP standards, assuring us of the safety and purity of the product. The remarkable discount for bulk buying makes it simple, economical and convenient to always have enough on hand. Finally, the superb guarantee convinces us of Research Verified's faith in the efficacy of UTI Relief as well as their genuine commitment to customer service and satisfaction. We heartily recommend this product.
Well researched reviews, from the experts at Research & You.