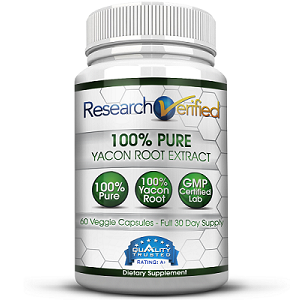 Research Verified Yacon Root Extract - Does It Work?-Review
What is Research Verified Yacon Root Extract?
Research Verified brings its Yacon Root Extract to a crowded and competitive weight-loss supplement marketplace. Ultimately, the bottom line for this and all similar products is whether it produces results. Research Verified's Yacon Root Extract is aimed at helping you burn fat and bases its formula very closely on the components and quantities used in clinical studies which have shown the efficacy of Yacon root extract in helping to burn excess body fat. We compiled a Research Verified brand review that has shown that this manufacturer is one to trust when it comes to looking for an effective and safe product. As well as being formulated according to clinical studies, their products are also manufactured in an FDA registered and cGMP certified lab. Read on for all the details and our take on whether this product stands out from the crowd.
Ingredients & How It Works
The sole and active ingredient in Research Verified's Yacon Root Extract is 1600 mg of Yacon root extract per two-capsule serving and is said to contain 50% fructooligosaccharides (FOS). The capsules are vegetarian.
According to a double-blind placebo-controlled experiment over the course of four months, regular use, on a daily basis, of yacon syrup resulted in a notable reduction in body weight, BMI and waist circumference. The key seems to be the FOS. These are said to produce short-chain fatty acids in the digestive system that have potent anti-obesity properties. Some studies also indicate that FOS can decrease the hunger hormone ghrelin, helping to control appetite.
Daily Serving
The manufacturer recommends taking a single capsule, two times daily some 30 minutes before a main meal, with water.
The Cost
When we wrote this review, you could buy a single bottle of Research Verified Yacon Root Extract for $48.00, providing you with a month's worth of capsules. You could also choose to purchase in bulk and get three bottles for $40.00 per bottle or six bottles for $33.00 per unit, saving more than 50% over the single bottle cost.
Guarantee
The company backs all its products, including its Yacon Root Extract with an extensive 365-day money back guarantee. It accepts back both opened and unopened bottles for refund any time up to a year after purchase. This provides ample time for new customers to test the product without almost any financial risk.
Our Review Summary of Research Verified Yacon Root Extract
Research Verified is one of the established players in the health supplements market and offers a broad range of products. Putting it all together, we are able to recommend its Yacon Root Extract. We like the company's approach, basing its product formulation and dosage on the properties tested in clinical studies that reported positive results in weight loss and body mass reduction. We also like the customer-friendly, long term money back guarantee which accepts both opened and unopened product back for refund. This not only allows you to try it without significant financial risk, but it is also an expression of the company's confidence in its own product. In addition, while the single-bottle cost is toward the high end of pricing in this category, the money back guarantee eliminates the risk of buying the three or six-bottle pack up front and enjoying the notable per-unit savings. Overall, we think this is a product worth trying.
Well researched reviews, from the experts at Research & You.