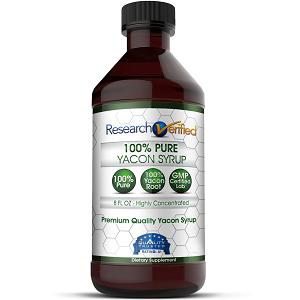 Research Verified Yacon Syrup - Does It Work?-Review
What Is Research Verified Yacon Syrup?
Yacon is a plant native to the Andes and is used traditionally as a food source by the peoples living there. Now a syrup made from this root is available to everyone and may help with weight loss and gastrointestinal issues. There are many brands of yacon syrup to choose from although we believe we have found the best. Please read our Research Verified Yacon Syrup review to learn more.
Ingredients & How It Works
This product is pure yacon syrup, with no fillers, flavorings or colorants. It is non-GMO and gluten free. The simple plant-based formula is suitable for vegetarians and vegans as well.
Yacon syrup contains a certain prebiotic known as fructooligosaccharides (FOS). This soluble fiber increases feelings of fullness, relieves digestive distress and may help regulate blood sugar levels. These factors combine to aid in weight loss.
Daily Serving
Research Verified recommends taking one teaspoon up to three times a day, before eating. As yacon syrup is pleasantly sweet it may be added to beverages or used as a topping for pancakes, toast and other items. Or simply swallow the spoonful for a healthful treat. Each serving contains only 13 calories and no fat, cholesterol or sodium.
The Cost
Our Research Verified reviews have shown that this manufacturer is interested in making their customers happy, and price is one of those ways. Maintaining a healthful weight is a lifelong endeavor. Research Verified's Yacon Syrup is a simple and tasty way to stay on track. Having an adequate supply makes it easier. Research Verified sells single bottles for those trying yacon syrup for the first time and it also offers bulk discounts to those committed to better health. Research Verified Yacon Syrup is available in one, three and six-month supplies. A single bottle costs $48.00 while a six-bottle bulk order is only $198.00. This is a saving of $15.00 dollars per bottle.
The Research Verified website is a secure system, making a safe place to buy. Major credit cards are accepted as well as payment through Amazon and PayPal. They ship via FedEx and the United States Post Office. Shipping is free for bulk purchases.
Guarantee
We feel that the strength of a guarantee shows the manufacturer's faith in its product. The better the terms, the less likely the customer is to need them. Research Verified's guarantee is the best we have seen. They offer a full refund for up to an entire year after the purchase of the product. This applies to both unopened and opened bottles. No matter the reason for the return, customers will get their money back. These terms remove all risk from the purchase of this product.
Our Review Summary Of Research Verified Yacon Syrup
Research Verified's Yacon Syrup meets all our expectations and exceeds some. This supplement is pure, safe and obtained from a natural source. It is free of artificial additives, GMOs and common allergens. This product is reasonably priced and bulk buying nets excellent savings and secure purchasing and free shipping for larger orders make stocking up easy. Finally, Research Verified's beyond-expectations guarantee eliminates any worry from purchasing and convinces us of the purity, safety and efficacy of its Yacon Syrup. We recommend this product.
Well researched reviews, from the experts at Research & You.