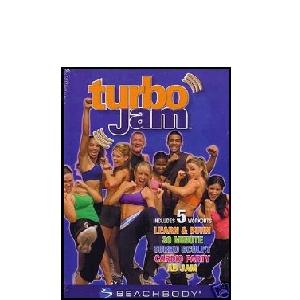 Turbo Jam-Review
Who wouldn't like to dance to music instead of working out to get the same benefits as from a proper workout? That's what Turbo Jam promises to do. This is a fitness product that claims it will make working out less grueling and, in fact, a fun thing to do, even as it allows you to rock out to good music.
About the Product
The company that manufactures Turbo Jam is Beachbody, the same one that gave us mega-hit music in the form of Insanity and P90X that's promoted on light night TV. the company has a brilliant track record in producing hits, and Turbo Jam is a clear attempt to diversify by filling a void in the workout area.
How it Works?
The company claims that it's possible to lose 1,000 calories in an hour by using the Turbo Jam system. Though this claim could be true, the question arises as to whether anyone would really need to lose this much in a day. A thousand calories amounts to about 50% of the daily requirement of a six-footer weighing about 200 pounds. The product comes with a pair of light-weight sculpting gloves and muscle development will be restricted to your arms, both upper and lower, and shoulders.
How Much it Costs?
The Turbo Jam system will set you back by $73, which seems a premium price to have to pay for a product of this type. Apart from the training gloves, some flash cards and a training guide, this is essentially a DVD system. And unless you are very serious about cardio, it's unlikely that you'd be willing to pay $73 for such a system. On the positive side the company offers a 30-day money back guarantee. Also, you are only required to pay $33 upfront. So if you opted to try it out for a month and decided you didn't like it and returned it, it would only cost you $13 shipping.
How You Make it Work?
You need a great level of commitment to stick with cardio exercises, for the long run. So the real challenge is to stick it out with the system for long enough. Thus this is the ideal product for somebody who is already into cardio and is looking for a boost to the next level of cardio. If you have never done cardio in your life, you'd do well to stay away from this product as it could put you off cardio for the rest of your life.
Final Review
Given the nature of this product and its worth to a limited niche user, it is being sold too aggressively. It seems to amount to harsh punishment to help you lose weight and make you feel good. Losing weight can be achieved less strenuously with daily exercises that don't purport to burn 1,000 calories a day. Further, the promoters of Turbo Jam appear to have no room for weight training in their scheme of things. So it appears to be a rather one dimensional way of looking at weight loss and fitness. Ordinarily, we would have no hesitation in recommending a Beachbody product. But in the case of Turbo Jam, we get the feeling that the company was in an unholy hurry to scramble a product together and launch it on the market. There are many competing products that are better devised and designed to give you better results more efficiently. With a one-dimensional angle of cardio and the simultaneous neglect of weight training, this one could prove to be monotonous for a user to be able to stay the course for too long. We would advise you to go for something that you can stick with for the long run, and on that count, Turbo Jam does not meet our expectation.
Well researched reviews, from the experts at Research & You.