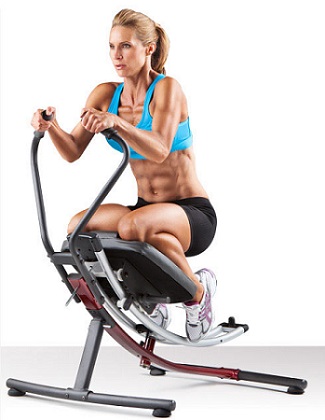 Ab Glider-Review
The Ab Glider is another gadget among the many exercise machines meant to strengthen the abdomen. American citizens have a taste for these products, and they always buy them in plenty. The Ab Glider is similar to the Ab Circle Pro, but it stands out in its own way, and it has its own different benefits. Many people prefer using these products because they always come with a promise to help with that part of body gives nightmares to men and women alike. A good number of people have that excess midsection weight, meaning there is at all times a ready market for any product that promises to help cut off this weight. Most people find the thought of crunches, and conventional sit-ups to be scary. Doing floor crunches and other related exercises are practices many prefer not to undertake. They therefore welcome anything else that simply won't require them to do excess workouts, something likely to make them realize their goals faster.
What is the Ab Glider?
It is a device manufactured to provide users with a faster option towards getting those 6 pack abs everyone fancies. According to the manufacturers, it should take you 3 minutes daily to get these results. There are different promotional videos and advertisements, where the company's chief spokeswoman known as Elisabeth Hassel beck supports all these claims. They say it is a product made with quality in mind. It is more efficient in regard to comfort, and it makes you achieve results faster compared to other abdominal exercises. According to the manufacturer's claims, the motion used by the machine helps one get an effective workout of twice effectiveness compared to the normal abdominal exercises. The manufacturers have simply combined two popular but different abdominal machines to come up with one. They have used the strategy of Ab Coaster, which works by rocking, then Ab Circle Pro's back-and -forth motion. They consider it as two different machines made into one, and a bargain too since Ab Glider is cheaper.
How much does the Ab Glider cost?
Ab Glider claims a sale price of close to $150. However, the finer details bring the total to $ 207. This applies when you make the decision to keep this machine, after trying it out. Incase you do not want trial, that is free, and you simply want to buy this machine outright, you can get it from Amazon at a cost of $170. There is still the option of getting the free trial then save close to $32, provided you make a single payment compared to going for option of trying the Ab glider first. You get it at $175 inclusive of shipping charges of $15 for 30 days trial.
How does it work?
The Ab Glider simply works by combining rocking with a back-and-forth motion. According to the manufacturer, a 3 minute session each day is enough to make one achieve results after using the machine. Commitment is, however, very important. You have to use the machine to help achieve your goals. It is a machine that can work as it is designed with a solid concept. It is sure to work if used in the right manner and consistently, combined with the best diet and other additional exercises. The user error is an important aspect you have to carefully take into consideration. It plays a huge role in anything that requires a given amount of physical ability and dexterity. In short, you simply have to be committed to using this machine.
Final Review
All people do not have similar experiences in regard to the use of this machine. While some find its use extremely easy, others are likely to struggle even after duration of use. Others never happen to use it, and they will be quick to claim that this device never works at all. This machine can be evaluated on construction; that is whether it is reliably constructed. It can also be evaluated on whether it functions properly or not. It is important to disregard the feedback different users give, to report anything on whether it worked for them or not. The machine manufacturers have made numerous claims on its effectiveness. There are also a variety of before and after pictures they have used on their websites that can not be trusted. However, it beats logic in suspecting that this product is completely ineffective. We have carried a research on it, and it shows that this unit has been constructed appropriately. It is a machine that if used well in the purpose it's meant for, it can work effectively. There is both positive and negative feedback as far as the product is concerned. Users have given positive feedback. Our recommendation is that you can use this machine if you are tired of those endless and demanding crunches you do on the floor. It is a machine sure to keep you motivated on getting abs. 
Well researched reviews, from the experts at Research & You.