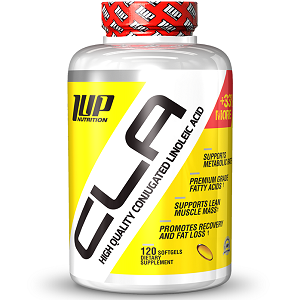 1 Up Nutrition CLA - Does It Work?-Review
What is 1 Up Nutrition CLA?
In the following review of 1 Up Nutrition CLA, we shall assess the manufacturer's claims that their quality product is a concentrated dose of Conjugated Linoleic Acid that promotes fat loss, supports the growth of lean muscle mass, and promotes muscle recovery. We have also looked at the customer support offered by the manufacturer to determine if this is a viable purchase.
Ingredients & How It Works
CLA is a polyunsaturated fatty acid that promotes the breakdown of fat molecules while preventing additional fat storage in body tissue. CLA is also known to stimulate the growth and repair of muscle. 1 Up Nutrition's CLA supplement consists of 80% CLA which is derived from Safflower Oil, claiming the highest quality ingredients. However, there is no mention of quality assurance from independent laboratories or abidance to GMP guidelines.
Daily Serving
1 Up recommends taking one 1000mg CLA softgel, four times a day before meals. This would amount to a dosage of 4g per day with a concentration of 80% CLA - which is a standard serving for supplements such as these. It is important that the recommended dose is not exceeded, as this may result in side-effects such as stomach pain, diarrhea, and nausea. One customer review stated that they broke out in "cyst like acne" all over their face and neck; which cleared up after 1 week of discontinuing use. This product is not intended to be used by anyone under the age of 18 or pregnant and nursing mothers. If any undesired reactions result from the consumption of this product, consult your physician.
The Cost
You can purchase a bottle of 1 Up Nutrition CLA online from the manufacturer's website - which is currently having a 20% website-wide sale. Initially, $24,99 - customers can buy a bottle of 120 softgels for $19,99. There is an option to join a loyalty programme, however, it is unclear as to what extent of the value you can expect to receive. There is no indication of package deals available.
Guarantee
1 Up offers a clear customer guarantee. The manufacturer offers a 100% money-back guarantee for this product. A refund is available for 30 days after purchase and applies to products that are less than 20% used in order to qualify. Refunds will be transferred to credit cards only and may take up to 7 days to reflect. There are reviews available on the website, although, these may be curated to reflect a positive image. Otherwise, there are not many other reviews available.
Our Review Summary Of 1 Up Nutrition CLA
1 Up Nutrition CLA is a reasonably-priced product that contains a market standard concentration of 80% Conjugated Linoleic Acid, which would likely fulfill the manufacturer's claims of promoting fat loss as well as the growth and repair of lean muscle mass. However, it is concerning that the manufacturer claims this product uses highest quality ingredients - yet discloses no proof of quality assurance on the website, such as abiding by GMP standards. There was also one case of a customer creaking out into cyst-like acne, so we recommend those with sensitive skin to rather opt for a product that is guaranteed quality. 
Well researched reviews, from the experts at Research & You.