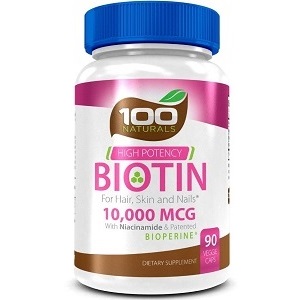 100 Naturals Biotin - Does It Work?-Review
What is 100 Naturals Biotin?
100 Naturals Biotin claims to be a sufficient source of biotin, offering a solution to unhealthy dull hair, skin, and nails. Can these veggie caps be a superior biotin supplement? Does the customer support live up the manufacturer's claims? Our in-depth review has these answers for you!
Ingredients & How It Works
This product has 1 sole active ingredient; a water-soluble B vitamin that has been clinically proven to be incredibly beneficial to the human body. Biotin, or vitamin H as it is also known, can be taken as a supplement to support luxurious hair, strong nails, as well as clear and supple skin. However, biotin is not only beneficial for external health but internal health too! From reduced inflammation to increased cognitive function and protection, regulated cholesterol to decreased blood sugar levels - biotin is a great addition to any supplement regimen. This particular product offers 10,000 mcg biotin per vegetarian capsule. This product is 100% potency tested by third-party sources and was manufactured in a GMP certified facility. While these factors are positive to note, this certification alone cannot confirm product efficacy.
Daily Serving
This product contains 10,000 mcg biotin which is in line with the market standard. To use a dietary supplement, take 1 capsule every day with a meal. Food is important as this may reduce the occurrence of side effects such as nausea, cramping, and diarrhea. What is concerning to note is that there where many negative side effects reported by unhappy customers; these range from having the reverse effect on hair and nails (making them more brittle) to customers breaking out in hives and rashes. Although the manufacturer does not state this, we suggest discontinuing use if any adverse side effects occur and to seek medical attention immediately. Be sure to consult your doctor before use.
The Cost
This product can be purchased directly from the manufacturer's website. A bottle of 100 Naturals Biotin contains 90 capsules (a 3-month supply) and retails for $13.95. This seems like a relatively affordable price, however, there is no package offers to encourage long-term use.
Guarantee
The 100 Naturals website states that there is a 100% satisfaction guarantee as well as a 100% full refund available 100 Days from purchase. While this guarantee may seem appealing, there is no additional information to substantiate this guarantee, such as if opened bottles are accepted. When looking at the many negative customer reviews; over and above the complaints of inefficacy and negative side effects as a result of use, customers complained that they were unable to receive a refund for this product. This is a concern.
Our Review Summary Of 100 Naturals Biotin
100 Naturals Biotin appears to be a decent biotin supplement at first glance. The product has an accurate concentration of the key active ingredient that was also third-party tested and produced in a GMP certified facility. However, there are many customer reviews that complained that this product was ineffective as well as brought about negative side effects (such as hives and rashes) as a result of this product use. Furthermore, the guarantee is misleading and vague; preventing customers from being refunded. For these reasons, we do not recommend this product. 
Well researched reviews, from the experts at Research & You.