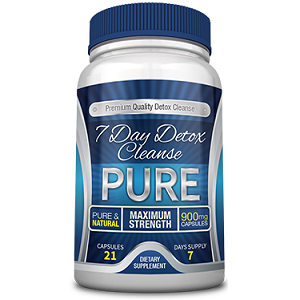 7 Day Colon Cleanse Pure - Does It Work?-Review
What is 7 Day Colon Cleanse Pure?
7 Day Colon Cleanse Pure is a dietary supplement designed, according to the manufacturer, to reduce body fat, increase energy levels and improve your digestive processes in seven days. The product also notes that colon cleansing can help your body release accumulated toxins and accelerate your metabolism to help burn calories. 7 Day Colon Cleanse Pure also promotes its all-natural formula which it says was designed by choosing ingredients that have been proven, scientifically, to be effective.
In our review of this product, below, we bring you all the details you need to help you determine if this is the kind of detox treatment that is right for you.
Ingredients & How It Works 
Fennel Seed
Ginger
Pumpkin Seed
Buckthorne Root
Rhubarb
Citrus Pectin
Acidophilus
Cape Aloe
Bentonite Clay
Cayenne Pepper
Senna
Oat Bran
Flax Seed Oil
In its extensive list of natural ingredients, 7 Day Colon Cleanse Pure focuses on a number of bodily processes to achieve its goals. Cascara Sagrada, Buckthorne Root, Cape Aloe and Senna, for example, all have laxative properties that help keep your system moving smoothly and eliminate toxins. Buckthorne root also has fat-burning abilities along with Licorice Root, Pumpkin Seed, Rhubarb, Citrus Pectin, Oat Bran and Cayenne Pepper. Bentonite Clay is known for its purifying capabilities and Prune Juice, in addition to boosting bowel health has a number of important nutrients.
Daily Serving 
The recommended instructions for use are to take two to three capsules per day, each with a glass of water. The manufacturer warns against taking more than three per day and against using this product for more than seven days in a row.
The Cost 
7 Day Colon Cleanse Pure is available for purchase from the manufacturer's website where you can choose from a number of packages. If you buy a single bottle with 21 capsules the cost is $49.95. A three-bottle set brings the per-bottle price to $33.30. The five-bottle "Top Seller" package is priced at $29.97 per unit and "7 Bottle Monster Plan" reduces the cost per bottle to $28.54.
Guarantee
The product comes with a 60-day 100% money-back guarantee. You can return both opened and unopened bottles within that time limit for a refund of your purchase price for any reason at all, no questions asked. This is definitely a confidence-building return/refund policy that indicates the company believes in its product and in serving its customers.
Our Review Summary of 7 Day Colon Cleanse Pure
Having put 7 Day Colon Cleanse Pure to our review process we come away liking the fact that it is an all-natural detox product and that its components were selected on the basis of scientific research. We also feel the strong money-back guarantee gives the product credence and, practically speaking, allows new users to try it without any financial risk. Finally, that it is Manufactured in an FDA-registered lab according to cGMP procedures is another benefit. All together we believe this product is worth trying.
Well researched reviews, from the experts at Research & You.