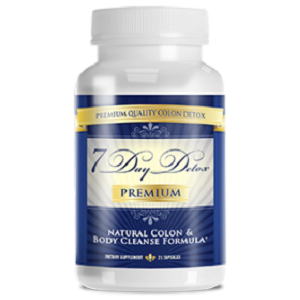 7 Day Detox Premium - Does It Work?-Review
What is 7 Day Detox Premium?
This is a review for 7 Day Detox Premium. For a long time, people were looking for a way to cleanse their bodies and start the weight-loss process in a more effective way. Colonic hydrotherapy was a way to clear the body of waste build up and start afresh. However, many products sold online promote similar processes but with extreme side effects. With 7 Day Detox Premium, the user can benefit from natural ingredients with no harsh side effects. We wanted to bring you all the details below so you can see the benefits from our research.
Ingredients & How It Works
7 Day Detox Premium contains a 900mg proprietary formula which includes:
Cascara Sagrada
Ginger
Goldenseal
Buckthorne Root
Licorice Root
Rhubarb
Citrus Pectin
Cape Aloe
Bentonite Clay
Aloe Vera
Senna
Prune Juice
Flax Seed Oil
All of the ingredients listed above are 100% natural and contain no additives. The goal is to gently cleanse the body over the course of seven days without side effects that can cause harsh results. It includes vitamins and minerals that promote colon strength for natural health benefits. However, this works only if the consumer follows a detox diet of only fruits and vegetables. Further information can be found on their website but primarily you would be allowed to eat any fresh or frozen fruits and vegetables, whole grains, beans, and legumes. All dairy products, eggs, wheat, sweeteners, coffee and caffeinated beverages should be avoided.
Daily Serving
Users should take 2-3 capsules daily with at least 8 ounces of water. More than three capsules a day is not allowed. This should only be taken for 7 days. However, as with any supplement, a health-care provider should be contacted to confirm the dosage.
The Cost
There are several packages available with 7 Day Detox Premium, such as a one-week supply for $48, a two-week supply and one free bottle for $91, a four-bottle supply for $112 and finally a six-bottle supply for $138. The latter saves customers $222 and jumps the purchase price down to $23 per bottle.
Guarantee
What is interesting about the 7 Day Detox Premium is that it offers an extremely long refund policy of 90 days. If a customer is unhappy with their results, they have 90 days to return the product for a full refund. After reviewing many products in this category, we find their policy to be extremely generous given that results are seen almost immediately. This gives users the time to try this process a few times over the course of 3 months before they have to return it.
Our Review Summary of 7 Day Detox Premium
7 Day Detox Premium is by far one of the best products we've had to review. It gives users the ability to cleanse their colon in the privacy of their home without harsh side effects that other products give. Over the course of 7 days, you can start to see results, increased energy and of course, colon health. The price and guarantee policy are generous for a product in its category and given their 100% natural ingredients, it really does not hurt to try.
Well researched reviews, from the experts at Research & You.