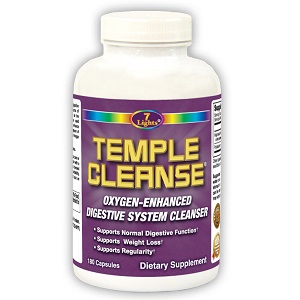 7 Lights Temple Cleanse - Does It Work?-Review
What is 7 Lights Temple Cleanse?
This supplement, Temple Cleanse, has as its goal to work as a digestive system cleanser: The manufacturer, 7 Lights, claims that this product can support weight loss, normal digestive function, and help maintain regularity. In this review, Temple Cleanse will be examined.
Ingredients & How It Works
Three (3) capsules provide:
Magnesium (1035 mg)
Potassium (99 mg)
Other, inactive, ingredients include proselytism, rice flour, citric acid, silica, rice seed/bran extract, micro crystalline cellulose and sunflower oil. Magnesium is hydrating, helping to soften fecal matter which otherwise would be difficult to pass. Also, this substance helps to maintain a healthy digestive tract. Cleansing the colon could lead to a loss of potassium and a condition called hypoglycemia; supplementing with potassium helps prevent such from happening.
Daily Serving
The dosage recommendation for this product is three (3) capsules daily taken with eight to 12 ounces of water on an empty stomach, or before bed. The manufacturer also suggests that, to enhance the effect of the product, the juice of half a lemon, one tablespoon of concentrated lemon juice or one tablespoon of apple cider vinegar may be added to the water. Alternatively, the number of capsules may be increased. However, the manufacturer also warns that if a user falls ill, the daily dosage should be reduced or discontinued.
The Cost
This product is available online at $49.95 for a 180-capsule bottle. The company does offer various package deals. On one deal, if a customer buys three bottles they can receive a 33% discount on the purchase price. The other deal is on two bottles: a third bottle comes free of charge.
Guarantee
The manufacturer has a 30-day full refund policy. Items must be unused and in good condition. Proof of purchase must be shown or no refund will be given. As the bottles may not be opened, a customer is not allowed to test the product. Even though they may receive their money back, the purpose of buying this product is to help with cleansing the colon. As each person is different, the customer will not know whether there might be side effects or other reactions after using this product.
Our Review Summary Of 7 Lights Temple
7 Lights Temple seems an interesting product for cleansing the colon. There are certain good aspects to this product, such as saving 33% when bulk buying. There is a special deal in which one bottle comes free of charge. This product is backed by a 30-day money-back return policy. On the other hand, the return policy does not allow the customer to test the product, which must be returned unused. Also, reviews are useful in gauging how other people have experienced the product. The problem is that the review section on the company's own website stands at zero. In addition, the formula itself is weak. Other products contain, for example, at least a pro-biotic such as L-audiophiles. This substance helps regulate and balance the pH levels and healthy bacteria in the gut for long-term intestinal health and disease prevention.
Well researched reviews, from the experts at Research & You.