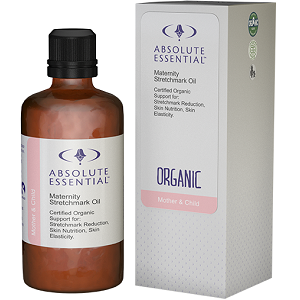 Absolute Essential Maternity Stretch Mark Oil - Does It Work?-Review
What is Absolute Essential Maternity Stretch Mark Oil?
Read our review below about Absolute Essential Maternity Stretch Mark Oil. This product is designed to reduce the appearance of stretch marks during pregnancy and after childbirth. The manufacturer claims that Maternity Stretch Mark Oil offers complete therapeutic synergy to provide your skin with protection from overstretch and dryness during the growth of pregnancy. Its base includes jojoba and avocado, which allows deep penetration, providing your skin with the best conditioning support.
Ingredients & How It Works
Mandarin Citrus Reticulata
Evening Primrose Oil
Calendula: Infused organic Calendula officinalis
Palmarosa (organic) Cymbopogon martini
Palmarosa encourages cell growth; Calendula and Primrose Oil maintain skin elasticity; and Mandarin helps with the prevention of stretch marks.  All these ingredients contribute towards reducing the appearance of stretch marks during pregnancy.
Daily Serving
It is recommended that you apply this oil every day during your pregnancy and after child birth to help with the recovery process. You can apply on old stretch marks as well. Apply on the breasts, thighs and stomach.
Cost
Absolute Essential Maternity Stretch mark Oil costs $21. 72 for  a 100ml bottle, and $54.33 for a 500ml bottle when bought from the manufacturer's website. There are no discounts or promotions on this product.
Guarantee
The manufacturer does not offer a money-back guarantee. They only refund you if you received an expired or damaged product. If you receive a product that you did not order, they will only refund you if the product is unopened, despite that it is their mistake. This is unfair and risky for the customers.
Our Review Summary of Absolute Essential Maternity Stretch Mark Oil
Absolute Essential Maternity Stretch Mark Oil could potentially be helpful in reducing stretch marks. It contains ingredients that are known to be helpful in managing skin related issues. The fact that the ingredients are natural makes it easy to believe that the product will do what it is supposed to do.  We were very disappointed when we could not find consumer reviews about this product because it is always good to know the experience of others when wanting to buy a product. Our big concern is that there is very little information about the ingredients that is provided. We did not find any information regarding the amount of each ingredient, which is a problem because too much can be dangerous, and tool little might not be effective. The lack of manufacturer's guarantee makes it even more riskier to buy this oil because it shows that they do not have faith on their product. While this is a problem, the price might be a problem too. It ia a bit high compared to the products of the same nature.
We would be misleading you if we advise you to buy this product. We recommend that you look for something that is more promising, cheaper and one that is supported by a money-back guarantee for your own benefit and protection. 
Well researched reviews, from the experts at Research & You.