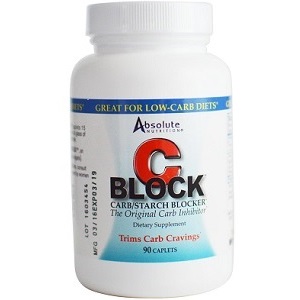 Absolute Nutrition C Block - Does It Work?-Review
What is Absolute Nutrition, C Block, Carb / Starch Blocker?
The following review is for a product called Absolute Nutrition, C Block, Carb / Starch Blocker. The manufacturer claims that this product which contains Trim Plex, a white kidney bean extract which has been shown to inhibit the absorption of starch from food. Trim Plex impedes the alpha amylase enzyme, which breaks down starches into sugars for digestion. Two added ingredients, chromium, and vanadium, which help regulate blood sugar levels, might assist to maintain the metabolism and decrease cravings for carbohydrates. This supplement has been designed to supplement weight loss programs that include a healthy diet (low carb diet and others) and regular exercise.
Ingredients & How it Works
Key Ingredients:
Chromium (Chromium Dinicotinate Glycinate)
Vanadium (BMOV)    
White Kidney Bean Extract (Trim Plex)
Chromium is used as a weight loss aid, increases muscle, and decreases body fat, improves athletic performance, increases energy, and prevents age-related mental decline. Vanadium (BMOV) is used for tuberculosis, syphilis, anemia,  low blood sugar, high cholesterol, heart disease, and water retention (edema), improves athletic performance in weight training, treats prediabetes and diabetes. White Kidney Bean Extract is known to act as a starch blocker inhibits the amylase which turns the starch consumed into absorbable sugar.
.
For effective results as per clinical/scientific research, Chitosan (used to treat obesity, high cholesterol, and Crohn's disease including, anemia, loss of strength and appetite, and insomnia) should be included in the ingredients.

Other Ingredients:
Dicalcium phosphate
Cellulose
Cellulose Gum
Vegetable stearic acid
Silica
Vegetable magnesium stearate
Vegetable resin gum
Dicalcium phosphate is used as a diluent in the pharmaceutical industry. Cellulose and
Cellulose gum is used as excipients in the pharmaceutical industry. Vegetable stearic acid
Is used as an emulsifying and solubilizing agent, as well as a capsule lubricant. Silica, Vegetable magnesium stearate, and Vegetable resin gum are used as disintegrants, anti-caking agents, adsorbents or glidants to allow powder to flow freely when tablets are manufactured.

This supplement should be 100% pure. It has been clinically proven that the artificial ingredients (excipients) may hinder results, and Vegetable Magnesium Stearate poses as a contaminant and may impede nutrient absorption.
Daily Serving
It is suggested to take two capsules 15 minutes before a starchy meal with a full glass of water (8 0z). More than 6 caplets should not be taken. This supplement should be stored in a dry place.

The daily serving might not be effective as it does not contain a key ingredient, (Chitosan) and the clinically proven effective dose is a minimum of 1 000 mcg of Chromium per day.
The Cost
The price of a container consisting of 90 caplets is $19.82 available to be purchased online from the manufacturer's website as well as third-party retailers. The manufacturer does offer discounted prices on items bought in bulk.
Guarantee
This product comes with a 100% 30-day money back guarantee (less shipping and handling charges). The manufacturer offers a no questions asked and no hassle return procedure.
Our Review Summary of Absolute Nutrition, C Block, Carb / Starch Blocker
As we have reviewed this product it has been rather satisfactory to find that the manufacturer offers such a good guarantee and that the product is free from starch, gluten, lactose, sugar, wheat, yeast, egg, soy, and artificial color. The aspects which are not satisfactory are, that this product lacks a clinically proven ingredient for effectiveness, the product contains excipients which may hinder results, and the daily serving is too low as the clinically proven effective dose is a minimum of 1 000mcg of Chromium per day. We could not establish if the manufacturing facility has GMP Certification.
Well researched reviews, from the experts at Research & You.