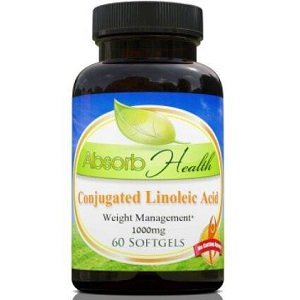 Absorb Health Conjugated Linoleic Acid - Does It Work?-Review
What is Absorb Health Conjugated Linoleic Acid?
Conjugated Linoleic Acid supplements are popular for weight-loss and obesity management, as they promote fat-burning capacity and build lean muscle mass without any additional changes in diet or exercise. Absorb Health claims that their Conjugated Linoleic Acid will achieve these results. The following review will examine this product as well as the manufacturer's customer support to determine if this product is a wise purchase.
Ingredients & How It Works
CLA achieves its weight-loss results by stimulating the breakdown of fat molecules, which improves fat-burning capacity while inhibiting the production of excess fat. Added with increased muscle growth, the body's composition of fat to lean muscle mass is altered. Each gelatin softgel contains 1000 mg of CLA, however, Absorb Health does not mention the percentage concentration of the CLA per softgel - which is a concern since the potency influences the effectiveness of the product. There is also no mention of quality assurance, such as abiding by GMP guidelines.
Daily Serving
There are no dosage instructions available on the manufacturer's website, which is a concern as it is a risk to your health if you ingest too much CLA at one time. An overdose of CLA could lead to diarrhea, stomach pain, and nausea; and in severe cases, it could lead to more serious outcomes such as an accumulation of fat in the liver and an increased insulin resistance. There may be dosage instructions on the product label, however, the image provided on the website is very small and difficult to read.
The Cost
To buy a bottle of 60 CLA softgels, you can expect to pay $9,99. This product can be purchased online from the Absorb Health website. The manufacturer offers free shipping to orders that exceed $75,00. Otherwise, there is no evidence of discounts or package deals available.
Guarantee
Absorb Health offer a 90-day money-back returns policy on all of their products; refunding customers the same way that the product was paid for. However, the company does not offer refunds for international orders and since Absorb Health is based in England - may be an issue for customers based in the United States. It is also unclear as to what is eligible for a refund, such as opened or used products. There are no reviews available for this product on the manufacturer's website as well as on third-party sites; thus, absent reviews prevent us from making any further deductions of the manufacturer's confidence in this product or customer support.  
Our Review Summary Of Absorb Health Conjugated Linoleic Acid
Absorb Health Conjugated Linoleic Acid supplements contain 1000 mg of CLA, which might deliver on the product claims; however, there is no mention of the concentration of the CLA per softgel nor quality assurance from third-party authorities. There are no clear dosage instructions available on the website - which is a great concern considering the potentially harmful side-effects this supplement can have if overdosed. Although the product is relatively affordable, there are absent reviews to substantiate the efficacy of this product and the supporting guarantee is unclear as well as prevents US customers from being eligible for returns. We do not recommend this product as a wise purchase choice, especially when there are so many quality products with supportive manufacturer's available on the market.
Well researched reviews, from the experts at Research & You.