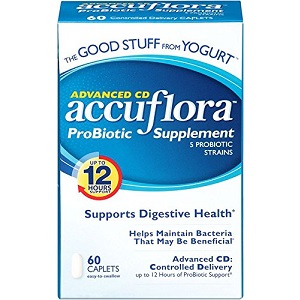 Accuflora Advanced CD Probiotic - Does It Work?-Review
What is Accuflora Advanced CD Probiotic?
This review is going to take a closer look at Accuflora CD Probiotic to learn more about how this supplement works and to see if it's worthwhile to try out. Accuflora Advanced is a dietary Probiotic Supplement that is designed to support your overall digestive health and helps regulate your body's internal balance. Your body is host to many good bacteria that act as a defensive force that can prevent your body from developing health problems like yeast infections. It can be hard to get the daily recommended intake of probiotics and many will rely on a probiotic supplement in order get the necessary amount.
Ingredients & How It Works
Sodium - 40 mg

Probiotic Blend (Lactobacillus acidophilus, Lactobacillus rhamnosus, Bifidobacterium bifidum, Lactobacillus salivarius, Streptococcus thermophilus)- 300 mg
Other Ingredients: Microcrystalline cellulose, hydroxypropyl methylcellulose, pectin, guar gum, silica dioxide, stearic acid, and turmeric.
Lactobacillus acidophilus is a type of bacteria that is found in your intestines. It produces lactic acid and does this by producing an enzyme called lactase which breaks down sugar found in milk into lactic acid. It can also help treat and prevent vaginal diseases. Lactobacillus rhamnosus helps boost your immune system. Bifidobacterium bifidum can treat several health conditions like IBS and can boost your immune system. Streptococcus thermophilus can help improve the condition of your skin and can alleviate symptoms of gastrointestinal problems.
Daily Serving
The manufacturer recommends taking two caplets up to two times a day.
If you are nursing, pregnant or have a known medical condition, you should talk to your doctor before taking this supplement.
The Cost
You can purchase this supplement directly from third-party retailers. We found a 60-caplet two-pack bottle online for $30.99. There are no other bulk purchasing options offered but that may vary according to the third-party retailer you purchase from.
Guarantee
We were unable to find a manufacturer's guarantee. This is risky and we strongly recommend contacting the third-party retailer's customer service you purchase this supplement from to inquire about their up to date return policy, should you choose to move forward with this product.
Our Review Summary Of Accuflora Advanced CD Probiotic
Accuflora Advanced appears to be a decent product. It contains a combination of several probiotics that are designed to support digestive health and it comes in easy to take caplets for convenience. However, this product is not backed by a manufacturer's guarantee which is risky for the consumer and it suggests the manufacturer's lack of confidence in its product's ability. It means that no matter the circumstances, you cannot get a refund from the manufacturer. Their lack of a manufacturer's guarantee is especially risky because the price per bottle is relatively high compared to other Probiotic supplements we have seen on the market. The costs can add up especially considering that the manufacturer does not offer any bulk purchasing packages or discounts to make it easier to afford continuously taking their supplement.
The consumer feedback we saw is mixed. Some consumers claimed to be satisfied with this product but many consumers also reported that this product does not work. Consumers claimed that it caused them to experience adverse side effects like upset stomach, constipation, cramping and bloating. You are better off purchasing a probiotic supplement that has positive consumer reviews, one that offers good bulk purchasing options and one that is backed by a strong manufacturer's guarantee for consumer protection.
Well researched reviews, from the experts at Research & You.